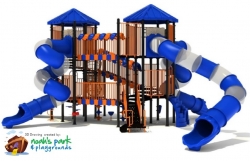 Edmond, OK, December 03, 2015 --(
PR.com
)-- Noah's Park & Playgrounds is proud to be chosen by Homes by Taber to provide and install a large, custom designed new playground structure to the new addition of Timber Crest, located on the west side of Midwest Boulevard, north of Covell Road in Edmond, OK.
Noah's Park & Playground's custom design was specifically chosen by Homes by Taber to accommodate the increasing number of families moving into the new addition in east Edmond. To complete the new addition, Homes by Taber chose to place the playground in the middle of the neighborhood to foster community building among residences in family-friendly ways.
Homes by Taber relied on the expert advice of Noah's Park & Playgrounds' sales and design team to create this large, custom play structure for children 5-12 years of age. The play structure features sharp, eye-catching colors of pacific blue, black and sun-burnt orange, and boasts double-stacked play decks up to 12-feet tall! Timber Crest kids are going to love exploring on the many different play events such as fun, angled steps, net-crawl-through tubes, and not two, but three spiral slides, as well as a curved tube slide from the highest 12-foot deck! The structure also offers a lower, double bedway slide and lower stepping/climbing components, and ground level play elements for Timber Crest's younger children.
The playground has been designed for children of all abilities, thanks to the ADA accessible ramp purchased, and the ADA playground transfer station designed into the play structure. In addition to the play structure, to complete the playground site location, Noah's Park & Playgrounds will be installing a 2-bay, 4-seat swing set with two belt and two infant bucket seats. As a safety precaution, Noah's will also be adding certified wood fiber surfacing and border timbers for surfacing containment.
Homes by Taber representative shared, "It's an awesome addition for our future Timber Crest homeowners and we are extremely excited to see it come together! Our families are sure to love it!"
Noah's Park & Playgrounds' installation crew will be installing the complete playground site in winter 2016.
Since 2001, Noah's Park & Playgrounds has provided commercial-grade park and playground equipment, national-wide, to housing communities, schools, churches, daycare facilities, special-need centers, non-profit organizations, city parks, developers, and many more. Noah's Park & Playgrounds provides a vast selection of items from early childhood playgrounds, indoor playgrounds, ADA accessible play pieces, outdoor fitness equipment, sports equipment, and park amenities such as tables, benches, trash cans, bleaches, and shades. Noah's Park & Playgrounds specializes in design and bid consultation, commercial playground installation services and custom playground design services.
For more information about the Timber Crest Addition playground design and installation, call Cristen at (405) 607-0714 or email cristen@noahsplay.com.
For more information about Noah's Park and Playground's products and services, please call (877) 248-5444, email us at info@noahsplay.com or visit our website at www.noahsplay.com.