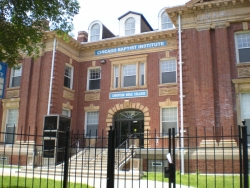 Chicago, IL, December 08, 2015 --(
PR.com
)-- Ebonie Caldwell, of Ebonie Caldwell Realty Portfolio - A Real Estate Development and Marketing Company, has announced the sale of the Chicago Baptist Institute a historic landmark building at 5120 S. King Drive, Chicago, IL 60615, on the southwest corner of 51st Street and Dr. Martin Luther King Drive for $15 million. The three story building is approximately 55,000 square feet and with an additional attached lot for sale estimated around 35,000 square feet.
"Bronzeville has indeed experienced a great deal of revitalization over the last three and a half decades as result of an influx of middle and upper-class African-American professionals along with the possibilities of the Obama Presidential Library being located across the street in Washington Park. With its unique history and location, in the Bronzeville & Washington Park area while being located a few blocks west of Hyde Park - this historical building is in a residential market area that is recovering at a fast pace. Planned developments, and growing business owners along with a re-emerging nightlife, flagships and franchises is being added to the community's growth. With its unique history and location, recovering residential market, planned developments, and steadfast business owners whose fortunes are inextricably tied to the community's growth, it's becoming increasingly apparent that Washington Park and Bronzeville is a reemerging neighborhood bound to bloom bigger than it was before in the 50's and 60's.
"Currently there are 2 Hotels in the 60615 zip code. Both of those hotels are located in the Hyde park Area. Please note the subject property for sale is located in the 60615 Zip Code, however the subject property for sale is located in the Washington Park / Bronzeville Area with the Hyde Park Zipcode due to its walking distance proximity from Hyde Park. This is the perfect opportunity for a boutique hotel or residential community development due to the massive real estate expansion and the exposure this neighborhood will be getting from the Presidential Library being located in Washington Park or Jackson Park," says Ebonie Caldwell.