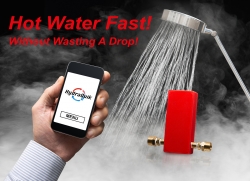 Sausalito, CA, December 10, 2015 --(
PR.com
)-- Hydra-Quick is launching a Kickstarter campaign to introduce the world's first smartphone programmable hot water delivery system. The system is also the worlds fastest.
Sporting a 1 horse power pump, the system delivers hot water from your water heater to your fixtures fast without wasting a drop of water. No water goes down the drain!
No one likes to stand at the shower with their hand in the water to see if it is hot yet, or to stand at the kitchen sink watching water flow down the drain waiting for the hot water. Now you won't have to.
Besides delivering lightning fast hot water on demand, the HydraQuik can be programmed to deliver hot water to your fixtures at pre-set times on pre-set days similar to how you set your automatic sprinkler system. It can also be used as a temperature controlled circulating system, and can protect your pipes from freezing in the winter.
The new HydraQuik system will save home owners thousands of gallons of water every year while adding convenience to their lives. The system can deliver hot water to any location in the home where a smart valve has been installed.
The modes of operation are selectable via a smart phone. You can also view your hot water usage data on your phone or tablet. You can view when hot water was used, how much water you saved and even what temperature the water is at each fixture.
In timer controlled mode the hot water can be programmed to be delivered to any particular fixture at any time similar to the way you program your sprinklers. Program it to send hot water to the kitchen just before meal preparation, or have the hot water sent to the shower as you arrive home from the gym.
You can always activate the system manually (on-demand mode) and get your hot water in a fraction of the time normally required. The HydraQuik will be compatible with many smart home systems.
Hydra-Quick was formed by three brothers, John, Bill, and Peter Lund to drag hot water distribution systems into the modern digital age. They are using Kickstarter to go from prototype to finished product. For more information about the Hydra-Quik please visit our
Kickstarter
page