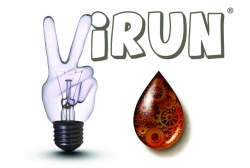 Walnut, CA, December 16, 2015 --(
PR.com
)-- VIRUN NutraBIOsciences rounds out this year with the opening of its' new R&D and Production facility in Pomona, where new products for Otwo Biotech will be produced for market.
Otwo Biotech in Shenzhen, China collaborates with Virun to formulate and produce several new nutritional products for the Chinese market.
Nutrition is in, and Dr. Jason Li and Otwo Biotech have collaborated with Virun to create a new line of smoothies and beverages for the Asian market. The smoothies, set for release in 2016, will be available in adult, senior, child and infant formulas; will contain unprecedented levels of EPA DHA, as high as 1500 mg per 15 ml serving. Beverages will follow, in adult and child formulas.
Boldly going where no nutritional company has gone before.
New R&D and production facility opens in Pomona, California, with space to stretch and grow.
Virun's new facility, affectionately known as USS Virun, is ready to launch. Their new headquarters features over 8,000 square feet of manufacturing space, a recreation room with a slide, and hover boards to get from place to place. The high-tech manufacturing space includes a newly designed spray dryer that incorporates Virun's patented Esolv® and patents pending bicarbonate extraction process. In addition, the new facility will allow Virun 5 times the production capacity as before. The new manufacturing facility with have a board room over-looking the manufacturing area that includes French Doors, windows and a front yard with palm trees, lounge chairs and a bar (non –alcoholic beverages of course).
Webinar takes a look Inside Virun.
A Golden Ticket awaits those who register for Virun's latest webinar. Inside Virun – Manufacturing the Next Generation of Supplements, Foods and Beverages, features Virun CEO and co-founder, Philip Bromley, who acts as a tour guide into Virun's proprietary, patented and secret manufacturing capabilities. Participants will be greeted by Virun's team of scientists and production experts. Join Virun and take a walk through the laboratory, cGMP production areas and pharmaceutical landscape. Don't worry, there are no employees at Virun from an island full of Whangdoodles, Hornswogglers and Snozzwangers. No video or photography is allowed, and sampling the newly developed formulations is off-limits. Violators are subject to an escort out of the facility by the Lollipop Guild.
Six additional patents are filed in 2015, to protect Virun inventions.
Six new patent filings join an already impressive coffer of IP at Virun. The new filings center on soft gel technologies, high oil load stable powders, and transferrin receptor technologies.
About VIRUN:
We are a Nutra-BioSciences™ company formed in 2003 and headquartered in Walnut, CA. We emphasize the safe and efficient delivery of pharmaceuticals and nutrients to the human body through use of our patented and patents-pending technologies. VIRUN's pharmaceutical and dietary supplement technologies allow improved bioavailability through nanotechnology and Transferrin conjugation that target specific cells within the body. Additionally, VIRUN's Esolv® and DPtechnology™ allow water-insoluble nutrients to be clear, water-soluble and stable in food, beverage and supplement applications. VIRUN's innovative solutions and brands include Omega-3 EPA DHA branded as OmegaH2O®, Resveratrol, CoQ10 branded as CoenzymeClear™, Astaxanthin, PQQ branded as PQQwater™, Lutein, Phytosterols and Curcumin. Virun is a fully integrated research and production facility with manufacturing in California and finished product processing also in California.