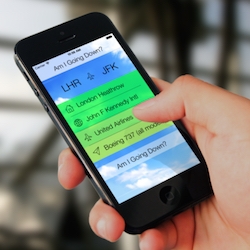 London, United Kingdom, December 22, 2015 --(
PR.com
)-- When app developers Vanilla Pixel launched an iPhone app to reassure those with a fear of flying, it proved hugely popular around the world. First released in January 2015, the app helps to calm fearful flyers by calculating the odds of the flight "going down," based on safety statistics for the specific airline, the type of aircraft being flown, and the airports being used.
The easy to use app, which shows just how rare air crashes are, can now be downloaded free for the first time from the App Store. Creator Nic Johns of Vanilla Pixel said they hoped anxious flyers would use the app to convince themselves that airline travel is actually very safe.
"We wanted to make the app available free for a limited time as a present to those with a fear of flying who are planning to travel over the festive period."
The app will be free from Wednesday, December 23rd.
For more information, please visit
http://appstore.com/amigoingdown