Belluck & Fox Mesothelioma Victims Center Now Urges a Diagnosed US Navy Veteran to Call Them About Vital Compensation Tips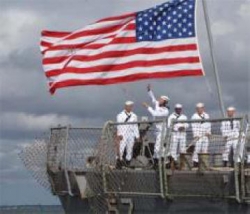 New York, NY, March 21, 2016 --(
PR.com
)-- The Belluck & Fox
Mesothelioma Victims Center
says, "If a US Navy Veteran or their family members have recently learned of a confirmed mesothelioma diagnosis, the last thing we want to have happen is for them to get lost in the maze of confusing Internet advertising related to mesothelioma. Many ads infer erroneous information such as: there being a federally sponsored claims center; no lawsuit is needed; treatment first and then call a lawyer. As we would like to explain anytime at 800-714-0303 to a Veteran or their family, the mesothelioma compensation process is actually very straightforward if the lawyers know what they are doing."
The Center says, "We believe almost all US Navy Veterans with mesothelioma will have one or two common denominators."
1. "The US Navy Veteran has more than likely been exposed to asbestos on their ship. In most instances, these types of asbestos exposures involved workers in a ship's engine room, or an onboard repair facility.
2. "Many US Navy Veterans were forced to stay on their ship during an overhaul or retrofit at a US Navy Shipyard. These facilities can be located in the following states: Virginia, Maine, Maryland, Connecticut, South Carolina, Pennsylvania, New York, California, Washington, or Hawaii. Typically, these types of US Navy Veterans had extreme exposure to asbestos."
The Belluck & Fox Mesothelioma Victims Center is one of the most quoted sources in the nation when it comes to mesothelioma compensation for US Navy Veterans.
The law firm has decades' worth of experience helping Veterans or their family on a nationwide basis. Diagnosed Veterans, or their family members, can call us anytime at 800-714-0303 and we'll immediately provide helpful guidance as to their possible claim, and we will also arrange for a time to go to the home of the Veteran to discover the specifics of how they were exposed to asbestos."
http://MesotheliomaVictimsCenter.Com
Because the Belluck & Fox Mesothelioma Victims Center has been helping US Navy Veterans with mesothelioma for so long they know nearly as much about certain types of US Navy Ships as the Veterans who once served on them. Simply providing a ship's classification, along with what the Veterans duties were on the ship, can be enough information to get started.
http://www.militaryfactory.com/ships/us-navy-ship-classifications.asp
About 3000 US citizens will be diagnosed with mesothelioma this year. High risk work groups for exposure to asbestos include US Navy Veterans, power plant workers, shipyard workers, oil refinery workers, steel mill workers, miners, manufacturing workers, plumbers, electricians, auto mechanics, machinists, or construction workers. Typically the exposure to asbestos for these types of workers occurred in the 1950's, 1960's, 1970's, or 1980's.
The average age for a diagnosed victim of mesothelioma is 72 years old. Frequently victims of mesothelioma are initially misdiagnosed with pneumonia.
http://MesotheliomaVictimsCenter.Com
According to the CDC the states indicated with the highest incidence of mesothelioma include Maine, Massachusetts, Connecticut, Maryland, New Jersey, Pennsylvania, Ohio, West Virginia, Virginia, Michigan, Illinois, Minnesota, Louisiana, Washington, and Oregon.
However, based on the calls the Mesothelioma Victims Center receives a diagnosed victim of mesothelioma could live in any state.
The Belluck & Fox Mesothelioma Victims Center says, "Before you hire a mesothelioma attorney please call us at 800-714-0303, and compare our qualifications to any other lawyer, or law firm.
"As we would like to explain anytime if a person who has been diagnosed with mesothelioma wants the best possible compensation it is vital they have the nation's most skilled, and experienced mesothelioma lawyers."
http://www.belluckfox.com/
For more information about mesothelioma please refer to the National Institutes of Health's web site related to this rare form of cancer:
http://www.nlm.nih.gov/medlineplus/mesothelioma.html
Contact
Mesothelioma Victims Center
Michael Thomas
800-714-0303
http://MesotheliomaVictimsCenter.Com

Contact