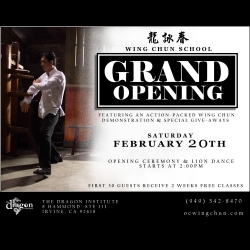 Irvine, CA, February 12, 2016 --(
PR.com
)-- Bringing authentic Ip Man lineage Wing Chun to Irvine, The Dragon Institute will hold its grand opening on Saturday February 20th at 2:00 PM.
An opening ceremony will feature a traditional Chinese lion dance performance as well as public demonstrations of Wing Chun in action. Attendees will be able to watch and learn techniques from the Wing Chun wooden dummy, "feel" the power of the infamous one-inch punch and cheer on students of all ages perform Wing Chun drills and fighting applications.
Located at 8 Hammond, Suite 113, in Irvine, C, the school is led by seventh generation Ip Man Wing Chun lineage holder, Adam Williss and his senior student Derrick Mansell. Its training curriculum will follow the same exclusive material taught by Ip Man to Bruce Lee in Hong Kong.
Wing Chun classes will be offered for adults as well as kids ages 5 and up. For adults, The Dragon Institute in Irvine brings the full spectrum of mind and body self-growth. Adult classes will not only be a fun way to get in shape, but also holds the advantages of stress-relieving meditation, a whole new way to look at life's challenges through applied practical philosophy – all in a system of self-defense considered by many experts to be one of today's most effective methods.
For kids, ages 5 and up, The Dragon Institute will go way beyond teaching children how to defend themselves. It will be a leadership development program that teaches life-lessons and character development for making the right decisions now... and in the future. The benefits are numerous, including a reward system that improves children's self-esteem, a class structure that teaches discipline, activities to channel aggression, confidence-building skills and lifetime self-defense skills.
Located in Irvine, close to Lake Forest and Foothill Ranch, the new school will serve residents in these cities as wel as Mission Viejo, Ladera Ranch, Tustin, Laguna Hills, Laguna Woods, Ranch Santa Margarita, Trabuco Canyon and more throughout Orange County.
Wing Chun Kung Fu
Wing Chun is a type of kung fu considered by many experts to be one of the most effective self defense systems in the world. A highly efficient combat-tested system of self defense, fighting skills and defensive tactics, Wing Chun emphasizes aggressive, direct/scientific movement and realistic training. It has been taught and integrated into the training programs of hundreds of military & law enforcement agencies around the world such as the US Navy Seals, the FBI, CIA, the French RAID, German SEK units.
For more information, visit
www.wingchunirvine.com