The Greenlion Roars at Wincoram
Cleaning company helps with community revitalization.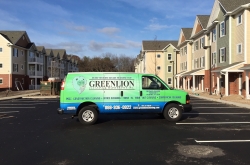 Freeport, NY, February 18, 2016 --(
PR.com
)-- Local Professional Cleaning Service Chosen for Post-Construction Cleaning
Greenlion Cleaning & Maintenance Inc.
has recently been chosen for and awarded the contract for the post-construction cleaning of Phase II at Wincoram Commons. The phase is comprised of the construction of housing and open green space, and is part of a development that will ultimately offer 176 energy-efficient one-, two- and three-bedroom apartments to area residents.
Wincoram Commons is serving to revitalize the community by offering high-quality affordable housing solutions while also creating new, permanent jobs for area residents. The housing community, which will ultimately feature 176 units, offers a wide range of amenities including fully-equipped kitchens with Energy Star qualified appliances, a fitness room, a computer lab, an on-site laundry facility and professional on-site management. It has been built on the site of a former movie theater in what had become a poorly maintained region of Coram. The construction of Wincoram Commons has stimulated the local economy by creating approximately 145 construction jobs and over 30 permanent jobs.
Greenlion Cleaning & Maintenance Inc. has accepted the contract for post-construction cleaning of the second phase of construction. The company, which has also provided final cleaning / post-construction cleanup for large-scale projects such as Starbucks, American Eagle Outfitters, Acadia Realty corporate office and many other commercial and residential projects throughout New York City and Long Island, stands out as a leader of the community by providing outstanding quality of service and customer support. Greenlion Cleaning & Maintenance Inc. recognizes the undertaking of this project as a profound service to their community, and they look forward to continue providing high-quality cleaning and exceptional customer support.
About Greenlion Cleaning and Maintenance Inc.
Greenlion Cleaning & Maintenance Inc. is a family-owned and operated professional cleaning service in New York. Committed to serving Nassau, Manhattan, Bronx, Queens, Brooklyn and Suffolk with pride, the company offers commercial cleaning, post-construction cleanup, move in and move out cleaning, power washing, office cleaning and floor stripping and waxing services. They support area residents and business owners by helping them create a clean, healthy environment for their employees and families. To find out more about the services they provide, or to set up a consultation, visit them online at
https://www.greenlioncleaning.com/home.html
.
Contact
Greenlion Cleaning & Maintenance Inc
Andre Hamilton
866-936-0822
www.greenlioncleaning.com

Contact