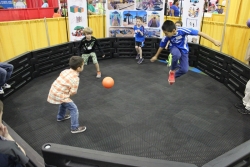 Oklahoma City, OK, February 23, 2016 --(
PR.com
)-- Over the constant hum of thousands at Metro Family Magazine's Kids Fest at the Cox Convention Center, you could hear the outbursts of laughter, shouting and cheering from more than 400 Gaga Ball players at Noah's Park & Playgrounds' booth on Saturday. Some kids where skillful Gaga Ball veterans, but most were brand new to this growing game here in the United States. They had a blast striking, running, jumping and dodging the ball in Noah's 15 foot pit, hoping to stay in play as long as possible.
"This game is awesome," said 12-year-old Jacob Hossley, one of the Gaga Ball players and attendees at Kids Fest. "I wish my school had one of these on our playground, I would play all the time, probably every day!"
Jacob's mom, Rebecca, also said, "he has been playing this game most of the day today, and I love the fact that he is having fun, while also getting a great workout."
Noah's Park & Playgrounds' Gaga Ball Pits are made out of black, heavy plastic HDPE timbers and are constructed together with sturdy galvanized steel spikes. Noah's offers two size Gaga Ball Pits, a 20 foot diameter and a 15 foot diameter, both of which can be in-ground or surface mounted, and are 24 inches tall. The pits can be arranged in three different shapes: octagonal, hexagonal or circular, and can easily be installed by staff or volunteers, or if needed, a Noah's CPSI certified installer.
"We thought that introducing such a fun game to metro kids at Kids Fest would be a great kickoff to our new Gaga Ball pits that we can offer here at Noah's Park & Playgrounds," says company owner Shan Shepherd. "We are one of the few companies who offers heavy duty plastic Gaga Ball pits rather than using wood planked walls for the pits, and what other way of testing its durability better than letting kids play in it all day!"
Noah's Gaga Ball a great workout for adults and children of all ages, and is perfect for schools, churches, day camps, neighborhoods, city parks, sports facilities, child care centers and so much more.
Gaga Ball Pits are now available on Noah's Park & Playgrounds' website to purchase online or over the phone. The 20 foot pits retail between $1,499 and $1,799 and the 15 foot pits retail between $1,199 and $1,499 depending on the mounting option chosen. Price does not include shipping and Gaga Ball Pits can be shipped anywhere in the United States in less than 5-10 business days.
To purchase your Gaga Ball Pit, go to www.noahsplay.com, email at info@noahsplay.com or call Noah's toll free at (877) 248-5444 and talk to our expert sales reps about Gaga Ball Pit purchasing and installation.
About Noah's Park & Playgrounds
Since 2001, Noah's Park & Playgrounds has provided commercial-grade park and playground equipment, on a national level, to housing communities, schools, churches, daycare facilities, special-need centers, non-profit organizations, city parks, developers, and many more. Noah's Park & Playgrounds provides a vast selection of items from early childhood playgrounds, indoor playgrounds, ADA accessible play pieces, outdoor fitness equipment, sports equipment, and park amenities such as tables, benches, trash cans, bleaches, and shades. Noah's Park & Playgrounds specializes in design and bid consultation, commercial playground installation services and custom playground design services.