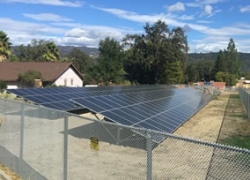 Novato, CA, March 03, 2016 --(
PR.com
)-- "The voters in Cloverdale passed the Measure G bond in 2010, and one of the main reasons the passage occurred is because the district included solar in its plans," stated CUSD Superintendent Jeremy Decker. "We are very excited that we have finally installed our solar panels and followed through with our promise to the community."
The solar photovoltaic panels are ground-mounted at the Northwest corner of the school property, enclosed by fencing for added protection and security. The students have a first-hand opportunity to see how sunlight is converted to electricity and to learn of the importance for us all to explore the possibility of using renewable resources for our energy.
Solar power offers the CUSD an opportunity to help break away from the budget uncertainty surrounding energy, and to secure decades of reliable energy prices while significantly lowering their carbon footprint. The energy savings can go back towards the important work of education. The solar power system for Cloverdale Unified School district marks SolarCraft's seventh installation for a Northern California school.
"Anytime that we make improvements to our school sites we always have the environment in mind. Installing solar panels at Washington not only allows us to provide power to a school, while lowering our electricity bill, but it shows our students and community that we are committed to being good stewards of the Earth," says Jeremy Decker.
Designed and installed by SolarCraft, the solar system consists of 312 SunPower 327-watt, high efficiency solar panels, spanning over 5,475 square feet and providing 165,881 kWh of clean, renewable electricity annually. In the first year of operation, the solar panels are estimated to generate more than 73 percent of Cloverdale school district's electricity needs. That's about $40,860 in savings every year.
CUSD's solar power system will generate enough electricity to power 24 average homes and will avoid production of almost 6,505,436 lbs. of carbon dioxide emissions per year, which is the equivalent of removing 10.5 million miles of driving over the next 25 years. That's also comparable to the air pollution removed by 56 acres of trees.
SolarCraft, a 100% employee owned company, is one of the most trusted and experienced solar energy contractors in California. Since 1984, this certified Green Business has been providing high quality solar electrical, solar pool heating and solar water heating services to homeowners and businesses, employing licensed and certified solar installers. With more than 6,000 satisfied customers and over 3 million square feet of solar collectors installed, SolarCraft is committed to Quality Design, Quality Materials and Customer Service.
www.solarcraft.com