Meet Spectrum King LED at Spannabis 2016 at Booth 187
Spectrum King LED, a technology company in the LED grow light industry, will promote and display their products at booth 187 at Spannabis 2016 in March.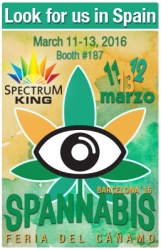 Canoga Park, CA, March 03, 2016 --(
PR.com
)-- Spectrum King LED, a manufacturer of LED grow lights and a leading company in the industry, will have a booth at Spannabis 2016, held from March 11-13th 2016, to meet other companies and growers and demonstrate their full spectrum LED grow lights at the annual convention.
Spannabis is the world's largest cannabis event, featuring businesses from around the world exhibiting and promoting the best new ways to grow, use, and enjoy cannabis. This year marks its eleventh anniversary and coincides with the third edition of the World Cannabis Conference. Both events seek to provide information about new advances and efforts in cannabis growth and use with assistance from professionals in science, medicine, politics, and cannabis culture.
"We're excited to bring the Spectrum King LED brand of products to Barcelona this year," said company owner Rami Vardi. "We love connecting with new people, seeing new faces, and bringing our innovative, effective technologies to the international cannabis audience. We'll be promoting and displaying our products at booth 187 all three days of Spannabis, so please come by and say hello."
Spectrum King LED manufactures several lines of full spectrum LED grow lights designed to mimic natural sunlight. To learn more about the company and find where they will be during Spannabis, visit
https://www.spectrumkingled.com/
.
About Spectrum King LED
Spectrum King LED, one of the leaders in the LED grow light technology, specializes in creating high-end LEDs that emit full spectrum light, leading to stronger, healthier plants and a greater harvest. Built with durable, high-quality parts, Spectrum King LED's lights use less energy and creates less heat to save money and promote eco-friendly growing. Spectrum King LED's lights are listed by UL, CE, and RoHS, ensuring safe and dependable operation. An IP65 certification signifies that the lights offer easy cleanup and worry-free maintenance. Learn more about their products at
https://www.spectrumkingled.com/
.
Contact
Spectrum King LED
Brendan Strath
(888) 654-0737
spectrumkingled.com

Contact