Baylor University Partners with iGrad to Implement Online Financial Literacy Education Initiative
Higher education embraces online adaptive learning to ensure students succeed in making wise financial decisions.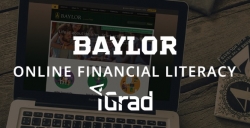 Waco, TX, March 09, 2016 --(
PR.com
)-- Financial literacy leader iGrad announces a new partnership with nationally renowned Baylor University to help students develop the critical financial skills needed to achieve their life goals. The Texas university will integrate iGrad's financial literacy platform into its campus-wide Student Financial Foundations program.
Baylor's Student Financial Foundations program offers workshops about budgets, scholarships, applying for jobs to help students afford school, and a seminar for seniors to begin discussing loan payment options after graduation. iGrad's learning platform will enhance current services and provide a central resource and learning tool to more than 15,000 Baylor Students.
"We at iGrad believe in dreams, and we know that the best way for students to achieve their dreams is to make wise financial decisions. Today, technology and adaptive learning strategies allow us to be highly effective in helping students develop the critical financial skills needed to achieve their goals," shares iGrad Vice President Kris Alban.
The iGrad online financial literacy platform is an interactive experience that employs adaptive learning technology to help students sharpen their knowledge about paying off (student) loans, affording a home, paying credit card bills, investing, budgeting and planning for emergencies. The platform offers games, videos, financial calculators, learning modules, news and articles, the ability to chat with an counselor and optional video-based student loan entrance and exit counseling.
"Budgeting and making wise financial choices now as students are important elements of a successful college experience. On the other hand, poor planning and lack of discipline can hamper timely graduation and lead to great struggles after college," says Jackie Diaz, Baylor's Assistant Vice President for Student Financial Services Strategy and Planning. The results of recent research conducted by the Investment Protection Institute highlights Diaz's critical point (http://www.iinvest.org/research-initiatives/investing-knowledge-behavior/ipi-survey-of-millennials-college-debtretirement-bind/):
• 56 percent of millennials say they worry they will have to work longer to save for retirement
• 29 percent are delaying home purchases
• 26 percent have put off buying a car
• 19 percent have had to move back in with parents
• 17 percent (including married individuals) have put off starting a family
• 12 percent are putting off getting married
"Our focus right now is to provide training and resources that will help students make better decisions during this critical time," Diaz said.
About iGrad: iGrad is privileged to partner with over 600 schools across the country to provide an industry-leading, customizable platform, which connects over 1.2 million students, as well as alumni and staff, with the tools needed to succeed in the real world of personal finance. iGrad is the only online community providing a comprehensive and customized financial literacy program featuring career assistance for students and graduates, user-specific financial education courses, and video-based student loan entrance and exit counseling. iGrad's recent accolades include: 2013 & 2015 Education Program of the Year, the Institute for Financial Literacy; Best Product of 2013, 2014 & 2015, University Business magazine; and Outstanding Consumer Information Award, Association for Financial Counseling, Planning and Education (AFCPE).
About Baylor University: The highly regarded academic community of Baylor University has the distinction of being oldest and largest Baptist university in the world. The mission of Baylor University is to educate men and women for worldwide leadership and service by integrating academic excellence and Christian commitment within a caring community. Chartered in 1845 by the Republic of Texas and affiliated with the Baptist General Convention of Texas, Baylor is the state's oldest institution of higher learning. With nationally ranked programs in law, business, health disciplines, the sciences and education, Baylor is ranked in the top 100 national doctoral-granting universities in America.
Baylor's Student Financial Foundations, a branch of Student Financial Services, was developed to support the Baylor community with relevant, key tools and resources to facilitate the financial literacy of Baylor University students and to help them make informed personal money management decisions.
Contact
iGrad
Edgar Rodriguez
760-487-8414
www.iGrad.com
More Information: http://Schools.iGrad.com; http://www.baylor.edu/sff , Donna Bowman, Donna_Bowman@baylor.edu

Contact