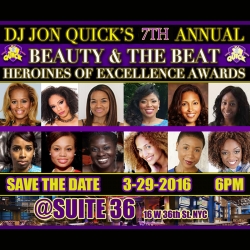 New York, NY, March 16, 2016 --(
PR.com
)-- Celebrity DJ Jon Quick presents his 7th Annual Beauty & the Beat: Heroines of Excellence Awards Fundraiser. The ultimate afterwork party with a purpose, this year's event promises to be another grand celebration of achievement and philanthropy.
Hosted by 2015 honoree, radio personality Deja Vu, (WBLS & SiriusXM Radio), each year this event honors women of color whom are considered rising stars in their chosen professions. Past honorees include actress Rochelle Aytes (ABC's "Mistresses"), DJ Beverly Bond (founder, Black Girls Rock!), Dr. Aletha Maybank (Assistant Commissioner of Health, NYC) & Chantelle Fraser (co-star of Bravo's "Blood, Sweat & Heels).
This year's honorees are led by 2016 Iconic Sister Award honoree Yvette Davis-Gayle, Vice President of Publicity of Interscope/Geffen/A&M Records. She will be joined by Raqiyah Mays (Writer/Activist), Sharee Stephens (TV Producer), Veronica Dunlap, Esq. (Civil Rights Attorney), Niki Darling (Singer/Songwriter), Anita Kopacz (Magazine Editor-in-Chief), Autumn Dawn McDonald (Researcher), KD Wilson (Business Solutions Executive), Monique Carswell (Marketing Executive), Jeroslyn Johnson (Marketing Strategist), Michelle Bell (Real Estate Mogul/Music Exec) and Tricia Messoroux (Photography/Production)
"Its always an honor to acknowledge these phenomenal women of color in the name of charity. With 12 honorees, this year's event will be the biggest one yet," said DJ Jon Quick, the event's creator. All proceeds go to "The Urban Resource Institute" and "The Hip Hop Loves Foundation."
A who's who of sponsors and supporters include Fresh Direct, NV Magazine, Uptown Magazine and Doris New York Haircare products.
Tickets available at www.jonquick.wix.com/heroinesofexcellence
Press inquires: jonquickevents@gmail.com