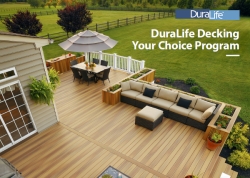 Biddeford, ME, March 29, 2016 --(
PR.com
)-- DuraLife™, the leading manufacturer of durable decking & railing systems, has introduced a new eBook highlighting the company's first-of-its-kind Your Choice Program™. The new 21-page, full-color DuraLife Decking Your Choice Program brochure is designed to help homeowners create long-lasting and beautiful composite decking solutions in three easy steps. Visitors to www.duralifedecking.com/composite-decking need only download the new eBook to navigate the basics of specifying ideal outdoor living spaces that combine finish and performance with the price point of choice.
"Designing the ideal deck can be truly overwhelming without the proper guidance," says Jim Poulin, the national sales manager for DuraLife Decking and Railing. "Our goal is to make the entire process as simple as possible with luxurious results. The new eBook clearly outlines all the options with full-color imagery. We'll even further simplify the experience by providing free samples of our Hardwoods™ and Landscapes™ Collection eco-friendly decking to ensure expectations are met every time."
Easily downloaded from www.duralifedecking.com/composite-decking, the new DuraLife Decking Your Choice Program eBook highlights DuraLife's composite decking categories along with their various finishes and profiles. This includes the numerous advantages these products hold over traditional wood decking or synthetic decking like PVC. In addition to being easier to maintain, polypropylene-based capped composite decking offers superior resistance to moisture, mold, mildew and the elements, while retaining its natural color longer and offering enhanced durability with minimal sagging between joists.
As for the selection process itself, the new eBook breaks the selection process into three easy steps starting with the choice of decking color. Highlighted are the Hardwoods Collection consisting of four variegated, non-repeating Gold Teak, Tropical Walnut, Garapa Gray and Brazilian Cherry wood grain patterns and the Landscapes Collection composed of earth tones in Pebble, Coastal Grey, Mahogany and Slate.
Once color is decided, the next phase of the Your Choice Program asks questions like: What is my budget? Which is more important, function, value or performance? and What are my long-term goals? The program answers each through the choice of three separate profiles available with both DuraLife color collections. The Siesta profile offers strength, durability and the highest possible quality, while the MVP Profile combines performance with excellent pricing and the Starter Profile blends function with clean, finished appearances.
Finally, the entire project is tied together through the selection of Railways® Universal Railings designed in eight colors and with coextruded, capped composite material that will not splinter or lose strength over time.
For more information on the Your Choice Program, please download the new DuraLife Decking Your Choice Program eBook from http://www.duralifedecking.com/downloads/duralife_decking_your_choice_program_ebook_2016.pdf.