Tim Tebow Headlining Free Wheelchair Mission's 13th Annual Miracle of Mobility Gala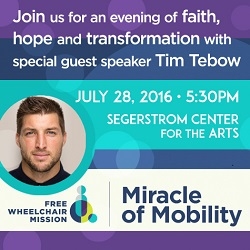 Irvine, CA, April 08, 2016 --(
PR.com
)-- On July 28, 2016, Free Wheelchair Mission will hold the 13th Annual Miracle of Mobility Gala at Costa Mesa's Segerstrom Center for the Arts in Orange County, Calif.
Special guest speaker Tim Tebow will share a message affirming the faith, hope and transformation Free Wheelchair Mission shares throughout the world. While he is known for his accolades on the football field, it is his greater mission to bring faith, hope and love to those in their darkest hour of need that brings him to Orange County to participate in FWM's ambitious goal to raise a one-night record amount of money to distribute 25,000 wheelchairs around the world.
The evening will begin with a dinner reception and silent auction in the lobby of the Renee and Henry Segerstrom Concert Hall and be followed by an exciting mobility auction.
About Free Wheelchair Mission:
Free Wheelchair Mission is a humanitarian, faith-based, registered 501(c)(3) nonprofit organization headquartered in Irvine, Calif. In collaboration with a network of like-minded partners, FWM has been providing wheelchairs to those in need around the world since 2001 providing dignity, independence and hope through the gift of mobility.
For more information about Free Wheelchair Mission, please visit freewheelchairmission.org.
Contact
Free Wheelchair Mission
Michele Werner
(949) 273-8470
www.freewheelchairmission.org

Contact