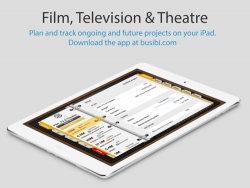 Los Angeles, CA, April 12, 2016 --(
PR.com
)-- A new iPad app for Film and Television Production is now available from
busibi.com/film
.
This tool makes is easier to juggle multiple projects, production units or shoots.
Aimed at producers, directors, writers as well as suppliers to the industry, it includes tools for managing pre-production, production and post production activities.
BusiBI brings together budgeting, scheduling, task lists, cast and crew, production notes, script notes, status tracking and provides intuitive analytics to monitor your progress.
Rather than carry a folder of printouts that blow around on location, everything can be brought into production meetings and onto set, all on an iPad.
Team-Up features encourage collaboration in pre-production by looping in additional people to bolster your team. Cut through creative obstacles and pre-production bottle-necks.
The app is fast. It works without an internet connection and you can sync when you have WiFi.
Prospective investors in your projects want to see your attention to detail in planning and pre-production, not just your creative vision. Keeping history of previous completed projects helps to demonstrate production discipline and a track record.