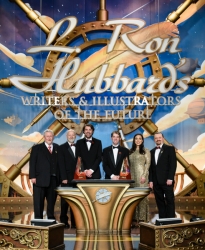 Los Angeles, CA, April 14, 2016 --(
PR.com
)-- Matt Dovey, a writer from Lincolnshire, UK and Adrian Massaro, an illustrator from Neuquen, Argentina were announced as the Grand Prize Winners of The 32nd Annual L. Ron Hubbard Achievement Awards for Writers and Illustrators of the Future Contests in Science Fiction and Fantasy held at the Wilshire Ebell Theatre in Los Angeles, CA, presented by Author Services, Inc. and Galaxy Press on Sunday evening, April 10, 2016.
The annual event celebrated the winners in the L. Ron Hubbard Writers and Illustrators of the Future Contests (www.writersofthefuture.com) before a packed hall with 1,200 guests and thousands more who were logged on to watch the event as it streamed live.
This year's 12 Quarterly Awards Winners of the Writing Contest were each presented with cash prizes and trophies. They included: Stewart C Baker of Dallas, OR; Matt Dovey of Lincolnshire, UK; Julie Frost of West Jordan, UT; HL Fullerton; Robert Graves (Pen Name: R.M. Graves) of London, England (who was unable to attend); Sylvia Anna Hivén of Lawrenceville, GA; Rachael K. Jones of Athens, GA; Ryan Row of Berkeley, CA; Jon Lasser of Seattle, WA; Stephen Merlino of Seattle, WA; Christoph Weber of Reno, NV and James Williams (Pen Name: J.W. Alden) of Hypoluxo, FL.
In addition, a 13th writer, K.D. Julicher of Fernley, NV was selected as a Published Finalist for this year's contest. She was in attendance at the event.
Krystal Claxton of Brooklet, GA, a writer award winner from 2015 was also in attendance at this year's awards show.
This year's 12 Quarterly Awards Winners of the Illustrating Contest were each presented with cash prizes and trophies. They included: Christina Alberici of Sewell, NJ; Camber Arnhart of Albuquerque, New Mexico; Brandon Knight of Shawbirch, Telford, UK; Talia Spencer of Los Angeles, CA; Adrian Massaro of Neuquen, Argentina; Killian McKeown of Phoenix, AZ; Vlada Monakhova of Edmonton, Alberta, Canada; Paul Otteni of Kirkland, WA; Jonas Spokas of Kaunas, Lithuania; Preston Stone of Loveland, CO; Maricela Ugarte Peña of Monterrey, Mexico and Dino Hadziavdic of Bosnia and Herzegovina.
Matt Dovey said, "Moments like this are unique and life defining. Write without shame. Do what you do with confidence. Ours is the greatest genre, that of science fiction and fantasy. Don't let anyone tell you otherwise. Speculative fiction is what we tell our children. If we are the writers of the future, it is up to us write the future."
Adrian Massaro said, "I didn't plan to win. I was surrounded by equals in this contest. All of the other stories that were so vivid; I never thought I would win. I tried to put the emotion into my illustration for 'Squalor and Sympathy.' I find it difficult to find words to express the profound feelings I am experiencing at the moment. It's beyond words."
The Black Tie Optional/Steampunk Formal event was attended by 13 members of Star Wars Steampunk Universe as well as by celebrities like Catherine Bell, Jennifer Aspen, Jesse Kove, Jim Meskimen, Pepe Reyes, Irvin Rodriguez and The Winner Twins – Brianna and Brittany Winner. The show was kicked off with a rousing Steampunk body percussion opening number. The evening also included appearances by EMCirque, a Cyr wheel performance, a dancer/dinosaur puppeteer performance and an aerialist performance.
Kellie Gerardi, a Space Science Strategist and Media Specialist of the Commercial Spaceflight Federation, served as the Keynote Speaker. Gerardi is one of 100 people globally currently being considered for space settlement to live on Mars. During her keynote address, Gerardi mentioned she is a lifelong lover of science fiction, saying: "It doesn't just predict the future, it inspires it. Writers, artists and readers are all needed to create believers within a culture to bring imagination to reality." Gerardi was presented with a Special Flag from Gunhild Jacobs on behalf of Author Services, Inc. A USB chip was sew into the flag containing all the stories and illustrations from the latest 32nd edition of the book, L. Ron Hubbard Presents Writers of the Future, so that in the event she is chosen to live on Mars, she can take the flag with her to start a library and art gallery there.
With writers and illustrators coming from all walks of life, the winners attended a week long workshop taught by contest judges - including New York Times bestselling authors Dave Wolverton (Runelord series), Orson Scott Card (Enders Game), Kevin J. Anderson (Dune series), World Fantasy Award winner Tim Powers (On Stranger Tides, adapted as the 4th Pirates of the Caribbean film), multiple Hugo and Nebula award winner Robert J. Sawyer (Flash Forward and The WWW Trilogy), Hugo and Nebula award winning author Larry Niven (the Ringworld series), and internationally acclaimed artist Larry Elmore (Dungeons & Dragons art design) - each one an experienced professional in the field providing sound advice based on hard-won experience.
Each writing and illustrating contest winner was presented their trophy by contest judges at the ceremony and combined cash prizes and royalties of over $30,000, and their story and artwork published in the bestselling Science Fiction anthology series – L. Ron Hubbard Presents Writers of the Future Volume 32, now available online at Amazon.com, KOBO.com and BN.com and soon to be available in print wherever books are sold.
The Writers of the Future writing contest (www.writersofthefuture.com) was initiated by L. Ron Hubbard in 1983 to provide a means for aspiring writers to get that much-needed break. Due to the success of the Writing Contest, the companion Illustrators of the Future Contest was created in 1988.
The intensive mentoring process has proven very successful. The 368 past winners of the Writing Contest have published 838 novels and nearly 4,000 short stories. They have produced 27 New York Times bestsellers and their works have sold over 50 million copies.
The 298 past winners of the Illustrating Contest have produced over 4,500 illustrations, 356 comic books, graced 594 books and albums with their art and visually contributed to 36 TV shows and 46 major movies.
For more information and to see the awards ceremony online, go to
www.writersofthefuture.com