"NovicEdge," the Newest Jobs Marketplace, to be Launched by Everest Consulting Asia
The job matching service that helps companies find the people they need, and helps people find the jobs they want.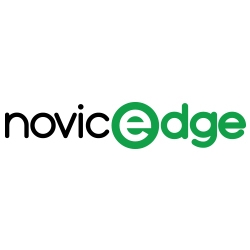 Kowloon, Hong Kong S.A.R., April 21, 2016 --(
PR.com
)-- Everest Consulting Asia Limited is pleased to announce the launching of NovicEdge, an online recruitment hub that bridges the gap between education and employment.
NovicEdge is a new type of job matching service that links the company's requirements and the job applicant's skills, empowering both parties by helping them connect with each other and expedite the process of recruitment. The site caters to employers searching for excellent prospects for their company, and also students and new grads looking for a career.
Employers would have the edge in hiring fresh and promising talents eager to start a career. NovicEdge lets employers put up their company page and highlight available positions, compensation and benefits. They get a chance to view the database of student users and access their profiles for further details, and even grants them the opportunity to interview potential candidates. On the other hand, students looking for a future job and career don't have to wait until graduation; they can sign up, complete their profile online and browse through the list of companies signed up with NovicEdge. NovicEdge also gives cash incentives to student members via point system through their account, a way to assist them financially with their studies, and/or job hunting costs.
What makes NovicEdge unique?
NovicEdge offers employers the early advantage to scout for talented and skilled applicants. At the other end, it offers Reward Points for students that they can use to redeem cash. The site also provides in-depth student technical and skills evaluation via online aptitude tests.
Key Features:
Companies
- Free job posting
- Client's own page to promote its office, benefits and other job offers
- Client gets a list of students/job seekers who matched their job post/s and also those who 'Liked' it
- Client can add members who can also manage the company account
- Offers Premium Account for access to student profiles and their contact details
Schools
- Monitor progress of NovicEdge members from the school (e.g. New Accounts, Access Profiles, Liked Jobs and more)
- School gets own customizable School Page to promote the school, its achievements and programs
- Management of cash bonus from resume access and download of students/users from the school
Students
- Students can create an extensive profile to impress potential employers
- Can take various tests to further improve profile rating
- Students are matched or can Like job posts that suits best the student's skills and preference
- Can receive points that can be exchanged for CASH rewards per company that accesses their profile
Visit NovicEdge and sign up with their new web service at
www.novicedge.com
. Be part of their community at
www.facebook.com/novicedge
. Any problems experienced while using their service or for any comments, inquiries, and suggestions, please contact them at pr@everestconsulting.asia.
About Everest Consulting Asia Limited
Everest Consulting Asia Limited is a web design and development company that aims to create web services, each specifically designed for various fields of businesses. Composed of driven multi-talented individuals from diverse cultures, we aim to provide new and innovative web applications that will make conducting business a whole lot easier and simpler.
Contact
Everest Consulting Asia Limited
Vina Consunto - Sugata
(+852) 58014414
http://everestconsulting.asia/
pr@everestconsulting.asia

Contact
Multimedia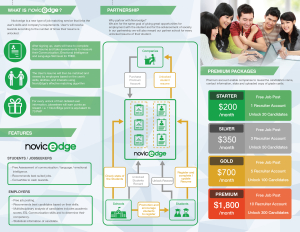 This latest online jobs marketplace matches a company's preferences to a promising applicant's skills, expediting the recruitment process for everyone's benefit