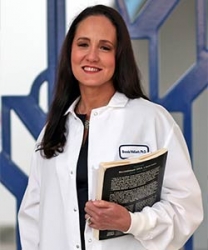 San Diego, CA, April 21, 2016 --(
PR.com
)-- Today, WALLACH IP Management and Consulting announced a new business venture focused on professional patent protection services. Founder Dr. Brenda Wallach, who has nearly twenty years' experience advising cutting-edge companies, is filling a critical need for companies that must protect their intellectual property and do so at a reasonable cost. The firm specializes in the areas of biotechnology, pharmaceuticals, therapeutics, renewable biofuels and medical devices.
"Throughout my career as a Patent Agent, I saw a need for companies to benefit financially from working with an experienced and seasoned independent consultant," said Dr. Wallach. "Too often the cost of hiring a law firm is cost-prohibitive for a company. The money that my clients save by hiring my firm to grow and protect their IP can be used to advance their research and develop new products. The firm's mission speaks to my passion to protect my clients' innovative products as they are released to the commercial market."
Dr. Wallach received her B.Sc. in Biochemistry from the University of California at Riverside, and was awarded her Ph.D. in Molecular Biology from the University of Copenhagen Denmark, funded by Novo Nordisk. In addition, she was awarded a postdoctoral fellowship from Stanford University School of Medicine. Her technical and diverse scientific background is in the areas of endocrinology, biology, molecular biology, microbiology, pharmacology, virology, immunology, biochemistry, chemistry, bio-informatics, biological assays, medical devices, renewable biofuels and refinery practice.
In addition to her strong scientific background, Dr. Wallach has extensive legal experience, having practiced law at two of the top IP law firms in the country for over 13 years. Dr. Brian O'Neill of Sapphire Energy recently said, "Brenda is an experienced Patent Agent who is effective at developing nascent and complicated IP, perseverant and well organized. I was particularly impressed by how well Brenda managed patent families covering disparate technologies."
"I truly love working with my clients and learning about their amazing technologies. I am very dedicated to helping each and every one of my clients succeed," stated Dr. Wallach.
About WALLACH IP Management and Consulting
WALLACH IP Management and Consulting, headquartered in San Diego, California, works with companies to develop, protect and align their intellectual property with their business goals. Founded by Patent Agent Dr. Brenda Wallach, the firm specializes in the areas of biotechnology, pharmaceuticals, renewable biofuels, therapeutics and medical devices, and consults with start-ups to Fortune 500 corporations. For more information, visit
wallachip.com
or call (858) 336-9584.