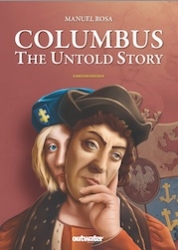 Garfield, NJ, May 20, 2016 --(
PR.com
)-- Outwater Media Group, publisher of "Nowy Dziennik" Polish News, releases revolutionary Christopher Columbus biography on 510th Anniversary of the discoverer's death. "COLUMBUS - The Untold Story" by investigative historian Manuel Rosa is based on half-a-lifetime of investigative research in seven countries, and completely rewrites the history books: Columbus was not Italian, as we had all been told, but of Polish royalty! The book had been published in Portugal, Spain, Poland and Lithuania, but never in English, until now.
Columbus died in Valladolid, Spain on May 20th 1506. Far from being a self-taught peasant, a poor sailor who stumbled upon America by blind luck, as we had been taught, Rosa presents indisputable facts that the explorer was well educated from an early age, spoke several languages and was such an adept navigator that he precisely pinpointed his location in the high seas just West of the Azores during his return voyage while five pilots on the cross-Atlantic voyage were truly lost.
The real Columbus presented in the new biography is not an incompetent amateur sailor who got lost on his way to India and gained immortal fame through his ignorance. He was actually a highly skilled James Bond of his day, who planned each step carefully. He had a secret mission that he carried out through lies, intrigues and treachery, which nobody had suspected up to now.
"As a scholarly genius and great navigator, Columbus had a mission of his own, something he carried on from his father and Rosa seems to have solved the mystery with sound research and documentation," wrote reviewer Alex Burke. "And his brilliant scheme to persuade the Queen of Spain that he could reach India by sailing west was a necessity in his work as a secret double-agent for the King of Portugal. The ruse was a complete success," she added.
By reviewing the ancient documents and unearthing unknown facts in the historical documents from various countries, Rosa claims to negate much of the conventional Columbus biographies. The man we wrongly call "Christopher Columbus" hid his true identity and changed his birth name to the pseudonym of Cristóbal Colón when he moved to Spain. In Spain he was also made an Admiral and Viceroy and his brothers and children were given privileged positions within the realm, such as Pages at the court.
It is a fact that the supposedly "Italian" Columbus did not even use Italian in any of his letters, not even to his brothers, findings that will disappoint many Italians and make them rethink their Columbus Day parades.
The explorer's father, according to Rosa's newly published research, far from being the Italian wool-weaver Domenico Colombo from Genoa, was King Wladyslaw III of Poland, Hungary and Lithuania. Although historians had claimed that King Wladyslaw was killed fighting the Islamic invaders at the 1444 Battle of Varna, ancient Portuguese documents support Rosa's theory. King Wladyslaw survived and went into secret exile in Portugal, married a Portuguese noblewoman from Madeira Island, and had a royal son named Segismundo Henriques.
This Polish-Portuguese Prince Segismundo Henriques, argues Rosa, hid his true origins in Spain, aided by Queen Isabella, and went on to become known as Cristobal Colón - misnamed Christopher Columbus in English.
"All of the secrecy initiated back then in 1484 has led to the misinformation historians faced for centuries and it was all done in order to protect the true identity of Columbus' father, king Wladyslaw," says Rosa.
The documented fact that Columbus wrote his own "Book of Prophecies", was especially interested in the Apocalypse, intended on leading an army to liberate the Holy Land from the Muslims and continuously wrote about rebuilding Solomon's Temple are clues that Rosa utilizes to assert that the explorer was secretly a Member of the Portuguese Templar Knights, who were then known as the Military Order of Christ, and who owned the Island of Madeira, where King Wladyslaw was living.
The story in the new biography of Christopher Columbus has been recognized by filmmakers. Chelsea Multi-Media and producer John Lage recently acquired rights to the story, as they see an undeniable potential for a few blockbuster feature films and for TV mini-series.
"Mr. Rosa's tenacity as an investigative historian results in an undeniable case for Columbus being a highly skilled, international spy whose real identity and mission is, only now, coming to light!" said Thom MacNamara, production executive, who is adapting the script for Chelsea Multi-Media. "We believe this will be a blockbuster, thriller film that will reveal the surprisingly sophisticated world of fifteenth century, geopolitical espionage!"
To commemorate the 510th anniversary of Columbus's death on May 20th, Manuel Rosa will present his lecture, "Who Really Was Columbus?" at Xavier University in Cincinnati, Ohio. The event includes a reception, dinner, and a discussion following the lecture: http://columbusbook.blogspot.com
In case you are unable to attend, while supplies last, you may still order the book through Amazon, or directly from
www.Columbus-Book.com
.