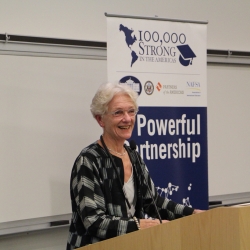 Denver, CO, June 01, 2016 --(
PR.com
)-- NAFSA: Association of International Educators is pleased to announce the 2017 Marlene M. Johnson Innovation Challenge, a NAFSA-sponsored $250,000 grant round for the
100,000 Strong in the Americas Initiative
. Johnson's public policy leadership resulted in NAFSA becoming a founding partner in the initiative, President Obama's signature education program in the Western Hemisphere. This donation recognizes Johnson's leadership in increasing and diversifying study abroad and her commitment to strengthening relations within the Americas through international education.
Johnson, who served with distinction as NAFSA's Executive Director and CEO since 1998, announced in March that she will retire at the end of 2016. During her time at NAFSA, Johnson founded and institutionalized NAFSA's annual Latin America Forum as a demonstration of the association's commitment to expanding partnerships and mobility in the Western Hemisphere. Johnson has led the field of international higher education in focusing on broadening international education opportunities for all students and diverse institutions, in particular, those that have historically been underrepresented. Through NAFSA's advocacy on the Senator Paul Simon Study Abroad Foundation Act, she continues to lead the call for a national program that would incentivize higher education to exponentially increase study abroad and provide a cost-effective, sustainable way to ensure more diverse U.S. undergraduates can study internationally.
As tribute to her unparalleled leadership, NAFSA's Board of Directors unanimously approved a resolution pledging sponsorship of a grant round. The pledge illustrates NAFSA's commitment to increasing study abroad through the use of a competitive grants model. The competitive grants model used in the 100,000 Strong in the Americas Initiative is inspired by NAFSA's 2003 National Strategic Task Force on Education Abroad; the work of the late, distinguished Senator Paul Simon, who advocated for a federal program to increase and diversify both students and locations of study abroad; the report of the federal bipartisan commission, the Abraham Lincoln Commission on Study Abroad, which recommended funding institutions, rather than national student scholarship programs; and legislation for which NAFSA advocated in multiple congresses to significantly increase and diversify study abroad.
Under Johnson's leadership, NAFSA has been instrumental in launching multiple public-private partnerships to increase study abroad, the largest of which is the 100,000 Strong in the Americas Innovation Fund. This dynamic fund – led by Partners of the Americas in partnership with NAFSA, the U.S. Department of State, and the White House –awards grants on a competitive basis to higher education institutions across the Americas to develop partnerships that make international study more accessible. In recognition of Johnson's commitment to making international educational opportunities available for all, and to building key partnerships with our closest neighbors, the competition will focus on those parts of the Americas that have been underserved, namely Central America and the Caribbean, providing incentives for matching funding to leverage greater opportunities for those institutions and countries who must navigate greater challenges for partnerships in educational mobility.
"The NAFSA Board of Directors wanted to put its money where its mouth is," said Dr. Fanta Aw, NAFSA President and Chair. "NAFSA is a founding partner of the 100,000 Strong in the America's Initiative, and to honor Marlene, it made perfect sense to us to invest in this initiative that will diversify study abroad in a more efficient and effective way than any other model in existence. The new research NAFSA releases this week further supports our belief that competitive grants for higher education institutions demonstrably grows and encourages study abroad."
"The goal of 100,000 Strong in the Americas, President Obama's signature education initiative in the Western Hemisphere, is to increase the number of U.S. students studying in the Western Hemisphere to 100,000 annually, and the number of students from Latin America and the Caribbean studying in the United States to 100,000 annually by the year 2020," explained Steve Vetter, President and CEO of Partners of the Americas. "No one has been more committed to reaching that goal than Marlene. Her steadfast leadership at the helm of NAFSA has helped us develop a lasting and sustainable program that will benefit institutions for years to come. This grant round is a fitting tribute to her unwavering dedication to the field of international education."
The Marlene M. Johnson Innovation Challenge will open in January 2017. Grant recipients will be announced at the 2017 NAFSA Annual Conference and Expo in Los Angeles.
Sample tweet: @NAFSA honors @MarleneAtNAFSA with $250,000 donation to #100KStrongAmericas to fund competitive grants to grow study abroad.
About NAFSA: With more than 10,000 members, NAFSA: Association of International Educators is the world's largest nonprofit association dedicated to international education. Visit us at www.nafsa.org/press. To learn more about our advocacy efforts on behalf of international education, visit www.ConnectingOurWorld.org and @ConnectOurWorld on Twitter.
About the 100,000 Strong in the Americas Innovation Fund: The 100,000 Strong in the Americas Innovation Fund is a public-private collaboration of the White House, U.S. Department of State, Partners of the Americas, and NAFSA: Association of International Educators that was announced by Secretary of State John Kerry in January 2014. Since then, 70 Innovation Fund grants have been awarded to teams of 153 higher education institutions from 19 countries in the Western Hemisphere. Learn more at www.100kstrongamericas.org.