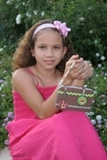 Clovis, CA, January 11, 2008 --(
PR.com
)-- dekoposh is pleased to announce the introduction of its Posh Mini Purse™ "Build a Purse Kit"- the first and only of its type hands-on activity for girls of all ages. The Build a Purse Kit consists of a food grade metal tin approximately 6"x4", high-end decorative felt, buttons, gems, rhinestones and ribbon.
The Posh Mini Purse™ is available in six different purse lines consisting of over fifty unique designs including a Posh Line, Uptown, Downtown, Animal Print, Couture and a Holiday Line. All of the lines retail for $20.95 except for the Couture Line which retails for $25.95.
Each Posh Mini Purse™ "Build a Purse Kit" is packaged in a separate vinyl purse that also includes all of the components to build the purse based on the specific design selected at http://www.dekoposh.com. In addition, step by step illustrated instructions are also included. In reality, the customer gets two purses for the price of one.
"A girl is not complete until she holds a purse of her own," said Dina Thomas-Virrueta, President and Founder of dekoposh. "The Build a Purse Kit is perfect for a fun activity at birthday or slumber parties, play dates or just a fun family activity with Mom or Grandma" Dina added.
Since girls love to create and they love fashion, the Build a Purse Kit enables them to be both creative and fashionable. Dina, President and Founder of dekoposh was inspired by her four year old daughter, who loves to build and create, to actually bring this product to market for all other little girls who have similar creative energy.
Since Dina's eight year old son, Jarrod, has been affected by Autism since birth, everyone at dekoposh believes they share a responsibility to help those kids affected by Autism. For this reason, dekoposh will continue to donate one dollar of every sales to Talk About Curing Autism (TACA) whose spokes person is Jenny McCarthy. This is a non-profit organization which provides information, resources and support to families affected by Autism. For more information on TACA, please visit http://www.tacanow.com.
For additional information, please visit
http://www.dekoposh.com
. The Posh Mini Purse™ can be found under the Build a Purse tab.
###