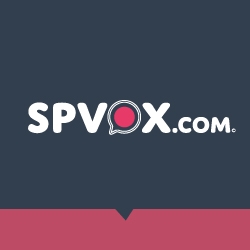 Las Vegas, NV, June 21, 2016 --(
PR.com
)-- As temperatures soar well into the triple digits in the Southwest, the Spanish Voice Over Experts have also turned up the heat by successfully launching their new website and branding across social media outlets.
"Our goal with the new branding across social media networks and the re-design of our website is to let our clients know that we are ready to help them reach, engage and impact the fast-growing Latino Audience with their story," stated Julio and Tamra Rivera.
The Spanish Voice Over Experts have 30+ years of combined experience creating outstanding voice overs in Latin American Neutral and Mexican Spanish for small and large businesses worldwide; from commercials, elearning, corporate and medical narrations to on-hold (IVR) phone messages and explainer videos.
The Hispanic population will reach 60 Million in 2020 - or almost 18 percent of the total U.S population - and their economic influence is growing even faster.
According to Nielsen Media, Hispanics have $ 1.5 trillion in buying power, a staggering 50 percent increase from 2010; "That's why it is crucially important that producers, agencies and clients establish partnerships with native, professional Spanish speakers who are also seasoned voice over pros and certified translators, to ensure that their message is transmitted accurately and effectively," mentioned Tamra Rivera.
Julio added, "The last thing a company wants is to trust their translations to Google or their voice overs to non-native speakers or hobbyists who don't have the skills, experience nor the equipment to make their brand, product or service stand out."
Julio and Tamra are looking forward to continue helping clients with their voice over needs, that is what keeps them constantly investing in training and attending industry conferences such as WovoCon, NAB, NRB and CES to stay abreast with technological advancements and up to date with the ever - changing advertising and media landscape.
To listen to demos or to learn more about what the Spanish Voice Over Experts can do for you, visit www.spanishvoiceoverexperts.com or contact Julio and Tamra Rivera at spanishvo@spvox.com or by phone: 702-218-7752
About Spanish Voice Over Experts
Since 1989, Julio and Tamra, the Spanish Voice Over Experts, have been creating professional voice overs for thousands of clients across the globe. In addition to doing voice overs for your project, they are certified translators and interpreters capable of transcribing, translating and localizing any script from English to Spanish, ensuring that it is grammatically correct, culturally appropriate and relevant to your target audience. Some of their clients include: McDonald's, Scientific Games, Timberland, Consumer Reports, The Smithsonian Institution, Major League Soccer and Pacific Gas and Electric.
Contact:
Company : Spanish Voice Over Experts
Name: Julio Rivera and Tamra Rahme-Rivera
Direct: 702-218-7752
Email: spanishvo@spvox.com
Website:
www.spanishvoiceoverexperts.com