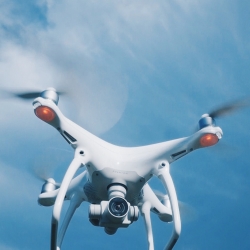 Greensboro, NC, August 18, 2016 --(
PR.com
)-- Go Unmanned, a drone/Unmanned Aerial Vehicle (UAV) company from Raleigh, N.C., will be taking part in a seminar at Guilford Tech Community College on Saturday, August 27th just two days before the FAA's 14CFR§107 exam kicks off! At 1:30 P.M., Clint Festa, an FAAS Team Representative, will review drone pilot certification requirements. Afterwards, around 2:15 P.M., Go Unmanned's technicians will demonstrate flying a UAV and provide flight instruction. This 2:15 P.M. drone demonstration will be open to the public.
With the FAA Part 107 ruling released in June, Commercial Drone Operators are required to hold a remote pilot airman certificate with a small Unmanned Aircraft System (UAS) rating issued by the FAA. Therefore, this seminar will provide support to those wishing to learn more about these new requirements. According to Richard Mankin, Manager at Go Unmanned, "Part 107 sets forth safe operating procedures to ensure both manned and unmanned aircrafts operate safely within the National Airspace System. Go Unmanned is honored to be one of the first within the industry to set an example of certification and safety for its operators and clients."
Location:
Guilford Tech Community College (GTCC Aviation Campus)
1053 Old Stage Coach Road
Greensboro, NC 27410
About Go Unmanned:
Go Unmanned is a division of Benchmark Tool & Supply, Inc. that began in 2014 with the purpose of providing UAVs to a diverse set of fields. Early on, they recognized that UAVs will have an immense impact on many different industries such as Emergency Services, Agriculture, Inspection and Construction. With different drone platforms and cameras designed for specific tasks, Go Unmanned has a solution for each unique field.