Arc Effect Launches "Savior" Campaign on Kickstarter
Support the World's First Durable, Waterproof, Compete Solar Charging System for the Outdoor Enthusiast from Now Through September 16.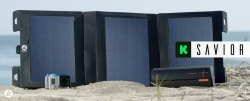 Los Angeles, CA, August 18, 2016 --(
PR.com
)-- Arc Effect has launched its flagship product, "Savior," the world's first durable and most complete waterproof solar charging system for the outdoor sports enthusiast. Created to simplify life on-the-go, the Savior eliminates the hassle of carrying extra batteries and cords to ensure that devices are fully charged even in the most remote of locations. Backers have already raised the initial goal of $20,000 on Kickstarter to create the first product prototypes with incentives unique to each level of giving. The campaign will remain active until September 16 to continue fundraising for a series of "stretch goals" that include product upgrades and preliminary production runs.
Designed in California and tested around the world, the Savior was created by Arc Effect founder Brian Meehan, a respected action sports film producer and life-long action sports athlete, with input from some of the world's top athletes, photographers, outdoor enthusiasts and explorers.
"We created the Savior after growing tired of carrying crates of batteries to charge our already heavy film equipment while on the road," said Meehan. "The support and feedback we've received from backers has been phenomenal. There's nothing like it on the market and it feels great to share a product that adds value to the outdoor experience."
Utilizing solar technology developed by SunCore Corp, a Southern California-based company that engineers ultra high-efficient solar solution to power consumer electronics, the Savior boasts a 21-watt three-panel array, with dual USB smart port that charge your iPhone or Android as fast as a wall charger, water-tight headphone jack and IP68-rated detachable waterproof pocket. The new clear touch window on the attached tech pocket has an improved touchscreen for easy access to mobile devices while simultaneously charging and storing personal items.
"Kickstarter has launched many new solar products for consumers. I follow these campaigns closely and when I see one as amazing as the Savior product, I reach out to help take it to the next level," said Michael Swan, vice president SunCore Corp and former Navy search and rescue diver. "We are very excited to be apart of this project and look forward to keeping Arc Effect customers' devices charged no matter where their adventures take them on this planet."
Professional surfer and ambassador for the Savior Timmy Reyes was among the product testers who provided feedback.
"I'm always pushing the limits in surfing, finding hidden gems and unmarked tracks in search of the world's best waves. The Savior is the perfect companion for me and my whole team – we're trekking off-road but have the ability to stay connected - and everything stays dry. It's the most innovative product I've used in years," said Reyes.
To learn more about Arc Effect's "Savior" and to support its Kickstarter campaign, please visit http://kck.st/2aIC7X5.
Contact
Make Waves Communications
Crystal Yang Edwards
310-940-2228
makewavescommunications.com

Contact