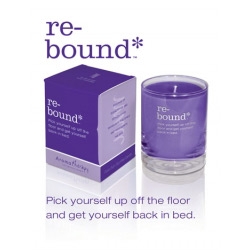 Vail, CO, January 22, 2008 --(
PR.com
)-- Hip, new aromatherapy candle line lights up Vail Cascade Resort and Spa.
Vail Cascade Resort and Spa, a Rocky Mountain landmark, now features Aromatherapy Interventions™ pure-burn soy blend candles in both the main gift shop and the spa.
"The scents are mood-setting" says Julie Goraj, Marketing Communications Manager of Vail's only ski-in/ski-out, AAA Four-Diamond Ski Resort and Spa, "and the humor is very clever."
According to Aromatherapy Interventions CEO, John McKee, "We applied published studies on the effect of scent on mood to create a humorous but insightful therapy gift center." Mckee holds up the Rebound™ candle and reads: "Pick yourself up off the floor and get yourself back in bed," noting that the scent supports the promise, "Essences of Sage of Bethlehem and bergamot invigorate the spirit and regenerate the ego."
The line also includes Withdrawal™: addiction therapy for caffeine, cell phones and shopping, Birthday Acceptance™: you're one year older today, one day younger than you'll be tomorrow,
Extro-Version™: a mood for those who like people almost more than anything, as well as twenty others with a scent to match the diagnosis.
The complete product line can be viewed at: www.aromatherapyinterventions.com
The Aromatherapy Interventions web site also provides wholesale order information to the trade, description and content of each candle, and a display of the merchandising program.
Aromatherapy Interventions™ is a California based company producing hand-poured aromatherapy candles: all scents, glass, cotton wicks, soy wax, packaging and printing are solely derived in the USA.
Aromatherapy Interventions Contact:
John McKee, 800 659 8770
Fax: 800 659 3242
Email: john@aromatherapyinterventions.com
http://aromatherapyinterventions.com
Vail Cascade Resort and Spa Contact:
Julie Goraj,
Marketing Communications Manager
970 479-7001
Vail Cascade Resort and Spa
1300 Westhaven Drive
Vail, CO 81657
http://www.vailcascade.com
###