Organizations Turn to LightPointe 60 GHz Wireless Bridges to Connect Buildings, While Improving Data Security and Reducing Network IT Expenses
Software company chooses LightPointe 60 GHz radios to connect employees in remote offices—while boosting connection speeds and avoiding recurring leased-line fees.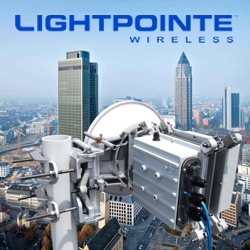 New York, NY, October 04, 2016 --(
PR.com
)-- LightPointe Wireless, manufacturer of point-to-point radios and lasers used to transmit data at speeds up to 50 times faster than the average broadband connection, announced that a leading software company selected and deployed another of its 60 GHz wireless bridges to connect two more of its buildings. MetaCommunications Inc. ("Meta"), an innovator in productivity, workflow and content collaboration software for creative and marketing teams, had already deployed LightPointe's AireLink 60 a year ago. When growth of Meta's business created the need to connect additional employees situated in a remote office, Meta once again turned to LightPointe for highly reliable Gigabit capacity data throughput—while avoiding monthly leased-line fees or the costs of alternative radios, since 60 GHz is license free.
"When an end-user makes a decision to trust LightPointe and our resellers again, it's something we celebrate and don't take for granted," said Dr. Heinz Willebrand, CEO of LightPointe. "Repeat customers are the proof that our research and development, product performance, technical support, and channel partners are the best in the industry. We are honored that both MetaCommunications and Computer Solutions, a leading integrator, once again selected the AireLink 60 wireless bridge to support the growth and continued success of Meta's business."
LightPointe has deployed over 20,000 wireless solutions since 1998, including optical communication bridges, 60 GHz (V-band) links, and 70/80 GHz (E-band) millimeter wave radios. These radios and Free Space Optics bridges enable organizations, such as businesses, hospitals, government agencies, and schools, to connect their buildings wirelessly at Gigabit capacity data rates. LightPointe's unique differentiator in 60 and 80 GHz radios is their unsurpassed nine levels of Adaptive Coding & Modulation (ACM), which enables the radios to 'self-optimize' data throughput in real time, in all weather conditions. LightPointe's AireLink Series is capable of "Five Nines" availability, meaning that downtime is less than 5.26 minutes a year depending on the geographic region of the installation and distance between sites.
"We evaluated several brands of point-to-point radios, including Ubiquiti, Siklu, and Bridgewave, and after careful consideration of both price and performance, selected LightPointe for recommendation to our valued customer, MetaCommunications," said Nate Vanderweide, president of Computer Solutions, Ltd. "After 30 years in the IT industry, I've evaluated a lot of manufacturers and their product offering. I've seen it all. LightPointe is one of those stand-out companies which is on the forefront of engineering and customer support, which gives us the confidence to recommend their wireless bridges over competing brands. And since LightPointe wireless bridges are made in the USA and come with a warranty twice as long as virtually all of its competitors, their products are easier to sell and are extremely reliable. We are more than pleased with the performance of the AireLink Series and our customer's satisfaction with the installation."
Contact
LightPointe Communications, Inc.
Todd Easterling
+1-858-834-4083
www.lightpointe.com

Contact