eMenuTouch is a Native Multi-Platform and Multilingual System, Rendering Guest Services on All Hospitality Venues in Remote and Real Time on Over 8.6 Billion Devices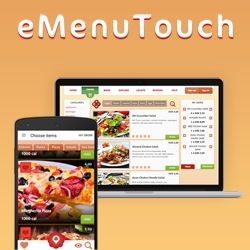 Los Angeles, CA, October 20, 2016 --(
PR.com
)-- World first high-tech proprietary software system, based on Queensway in-house Native Multi-Platform and multilingual system, which renders guest services on each and every hospitality venue in remote and real time on over 8.6 billion smartphones, smart-TVs and Wi-Fi enabled devices screen from home, office, inside a hotel room, in-flight, train compartment, cruise line cabin, in-seat stadium, car or on the go.
You can open and play with their Live Demos & Videos on the following address:
demos.emenutouch.com
All guest service experiences are a system of activating, deactivating and integrating of modules, components to interface application that functions as one but deploy multiple services, providing beyond expectations unbelievable experience and interlacing to the sky high level. eMenuTouch system functions on single venue, multiple venues on 1 location and multiple venues on domestic or worldwide locations. All Guest services are free for the guest as end user from the vendor.
Subscriber requires a functional website, POS or Payment terminal and Internet. eMenuTouch system is Native, multi-platform, stand-alone and using mobile virtualization technology (BYOD) Bring Your Own Device applying top security to render all guest services. Most guests bring their own smartphones or devices which function seamlessly with eMenuTouch system.
eMenuTouch back office manager leads and guides step by step in making unlimited categories, adding food and beverage menu items, ingredients, calories, weight, size, prices and finally uploading images. Tap on menu item's image and it would display ingredients, calories, weight and size. When you tap on wine image it will display size, vintage, tone, appellation, varietal, alcohol contents, sugar, barrel, acidity and food pairing. You can filter the allergen ingredients by tapping on Eye. There is an additional option for the guests to customize their meals.
Stadiums, Weddings, Theaters and Racecourses could evaluate Bookings, Check-In, Navigate to Seat, Remote and Real Time Pre-ordering Food & beverage from home, Office, in a Car, Train or on the go. Pre-ordered F&B can be Picked-up a Stadium's Concession, Restaurant, QSR and Catering Venues Take Away, Home Delivery or Drop Off.
Pre-ordering the Food & Beverage or from Stadium In-Seat ordered and delivery from multiple Restaurants, Concession and QSR Venues Stadiums, Arenas, Events, Weddings, Racecourses and other Sports Venues guest services are based on PAYG "pay as you go" or subscription based on SaaS Software as a Service or IaaS Infra Structure as a Service.
Hotel in-room service, restaurants, Wine & Dine, nightclubs and Cruise line guest services includes table reservation, table changing, food and drinks ordering and re-ordering, tap on my order anytime to check bill and split the check. Fine Dining includes kitchen screen view and Steward's tap-on Service. Same services including Steward Service for other Venues are available on demand. Apple iBeacon™ and Eddystone™ Seat Tracking, Seat Navigation indoor positioning system (IPS) from 100 seats to 100, 000 seats is also available on demand.
Queensway manages server infrastructures, silent updates, upgrades, uptime and security. Branding App is free and no other charges except SaaS or IaaS based monthly subscription and "pay as you go" model. Queensway AB seamlessly integrates the App with the client's website, client's branding, POS System, clients own Apps, Hotels property management and payment Terminal systems, but no 3rd party Apps due to strict security.
Multiple chains are provided with infrastructure as a service (IaaS).
Some of the latest Live Demo Applications are under approval and would appear in due course on all Platforms.
Contact
Queensway Group AB
Ather Khan
+4687168272
http://www.queensway.se

Contact