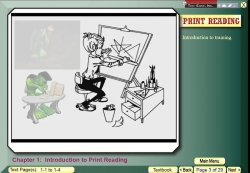 Fredonia, NY, October 20, 2016 --(
PR.com
)-- Print Reading for Today
Reading prints and drawings is as vital to manufacturers today as it was 50 years ago. It doesn't matter if you are in purchasing, quality, machining or engineering, you must be able to understand the drawings that are sent to you. With travel costs on the rise, it is getting harder for companies to send employees to training. This lead Tec-Ease, Inc., a development and training company that supports the manufacturing industry with coaching, reference materials, text books and software to learn and use GD&T, Print Reading, Six Sigma and ISO, to convert their popular "Print Reading for Today" training course into a self-paced computer-based software package.
Tec-Ease has been teaching print reading for decades and has seen first-hand the importance of this skill. If a drawing is not correctly interrupted, mistakes can be made and the end product does not work or fit together correctly. Over the years, the method and Standards used to create prints has changed. Tec-Ease took that into account with this course and provided past practices, that may be found on older drawings, and current practices found on today's drawings. Emphasis is placed on understanding Multiview relationships, symbology and conventional dimensioning and tolerancing methods. Numerous exercises and activities keep the course engaging, fun and interactive. The course is designed to be self-paced, and is easily taken over several days or weeks, as time. The course is available in both web-based and Windows-based versions, to allow the student to take the course from anywhere – home, office or coffee shop.
For more information and to order, visit https://www.tec-ease.com/store/shopexd.asp?id=168&bc=no.
A Quick Reference Comparison of ASME Y14.5M-1994 and ASME Y14.5-2009
Have you ever wondered what the differences are between the ASME Y14.5M-1994 and the ASME Y14.5-2009 Standards? It is a common question that Tec-Ease receives in training, and on their website or Facebook page. These repeated questions spurred Tec-Ease into creating an easy to use reference guide that highlights the differences in the two Standards. This reference guide is packed full with useful information and all of the symbols used in both Standards. Some of the information that can be found in this reference guide include; the 14 GD&T symbols, along with their meaning from both the 1994 and 2009 Standards. Illustrations of sample tolerance zones and inspections are also included. You will also find the 7 new GD&T symbols from the 2009 Standard. Each symbol includes their meaning, a graphic showing how to use and an explanation of how that symbol was dealt with 1994. If you are moving away from the 1994 Standard to the 2009 Standard, or if your company has drawings in accordance with both Standards, this handy reference guide is a must have.
For more information and to order, visit https://www.tec-ease.com/store/shopexd.asp?id=167&bc=no.