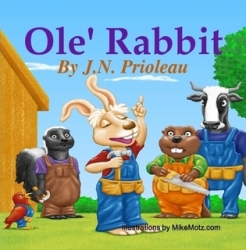 Columbia, SC, October 27, 2016 --(
PR.com
)-- JN Prioleau (author of the Clyde series) recently published her fourth children's book, "Ole' Rabbit." And it's just in time for Christmas. A fun book that will become every child's favorite bedtime story.
Originally from Charleston, SC, JN Prioleau always had a passion for writing since the age of 11. She has written several poems and had the opportunity to publish her first poetry book in 2001 with her mom. Fast forward, she started writing funny children stories based on her son's life.
About the book: "Ole' Rabbit" is a crazy, old Rabbit that tries to help an old friend. However, his mischief ways got the best of him and he tries to cover it up in funny ways. A fun read for kids that will have them "cracking" up.
"Ole' Rabbit" can be found at the following book store sites:
www.barnesandnoble.com
www.amazon.com
www.lulu.com
www.booksamillion.com