Sheriff Jewell Williams Receives National Guard and Reserve "Above And Beyond" Honors
Philadelphia Sheriff Jewell Williams awarded for going Above and Beyond the law to support hire veterans, support National Guard reservists. Award presented by Major General Wesley E. Craig Jr., on behalf of the Employer Support of the Guard and Reserve (ESGR). 12% of Philadelphia Sheriff Deputies are veterans.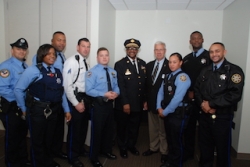 Philadelphia, PA, November 01, 2016 --(
PR.com
)-- Sheriff Jewell Williams was honored as the recipient of the "Above and Beyond" award by the Employer Support of the Guard and Reserve (ESGR) for his support of veterans and reservists in the Office of the Sheriff of Philadelphia City & County. Approximately 12-percent of Philadelphia's sheriff's deputies are veterans.
"This is indeed a great and unexpected honor," said Sheriff Williams. "Hiring veterans, many of whom have served in areas like Iraq and Afghanistan, is simply a matter of getting the best of the best. Supporting them is a win-win for the office because they continue to serve the public above and beyond as sheriff deputies and officers."
At a ceremony held in the Family Court Building in Philadelphia--where Sheriff's Deputies safeguard the welfare of judges, attorneys, clients, defendants and children--the award was presented by Major General Wesley E. Craig, Jr., The Adjutant General of Pennsylvania, and Albert Newman, ESGR South Eastern Regional Chairman.
"This award is given to someone who has gone above and beyond the law to support the guard and reserve," said General Major Craig. "It takes a three things to make the Guard work: a dedicated person, a dedicated family and a supportive employer. Your support for the Guard and reserve is crucial to national defense."
Craig noted that the Guard and Reserve now make up more than 50-percent of all military resources. The Pennsylvania guard has 14 battalions who have earned meritorious service unit citations during more than 45,000 deployments.
Activated for national defense emergencies such as 911 (including duty in the Shenksville, PA crash of Flight 93 on 9/11), the PA Guard/Reserve have also been called to duty for super storms like Hurricane Sandy (when PA sent 300 guardsmen to help in New Jersey) and, as recently as the Democratic National Convention held in Philadelphia, when1000 guardsman were called up for duty.
Sheriff Williams accepted the honor and told the Deputies the story of his late brother who served in Viet Nam, struggled with substance abuse and lost his leg, lauding the VA hospital for treatment that saved his brother's life and gave him a second chance.
"So I lived the Viet Nam war through my brother and I wanted to be supportive," the Sheriff said. "You served and we appreciate your service. It's important that you protect our country; every day you serve, gives us one more day of freedom. This is what makes America great."
During the presentation, Sheriff Williams also signed an official "Statement of Support" for the ESGR which encourages employers to hire veterans and reservists and also support their brothers and sisters serving in the military here and abroad.
Contact
Cardenas Grant Communications
Barbara Grant
215-520-8849
www.phillysheriff.com

Contact