YO-KAI WATCH Toys Launches in the Middle East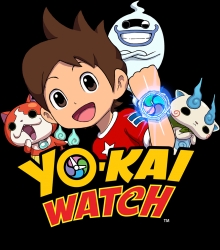 Dubai, United Arab Emirates, November 08, 2016 --(
PR.com
)-- ToyPro Dmcc, a Dubai based toy marketing and development house, is making its first introduction to the market with the exclusive launch of the Yo-Kai Watch toys in the Middle East after a massive success in Japan, US and currently in the EU markets. Yo-Kai Watch is a smash hit series of role-playing video games and animation, created and developed by Level-5 in Japan.
"We are very excited to have our first introduction to the market with such a strong property and have it baked with a massive media and marketing support fully localized for our young YoKai fans across the Middle East market. We will be bringing a lot of fun YoKai experiences, where not only kids, but the whole family can enjoy together," said Fawaz Abidin, ToyPro Managing Director. "With our media partner SpaceToon TV, Yo-Kai Watch animation has been completely localized into Arabic and we did work with Hasbro MENA FZA as well to reflect this localization on the toy line itself. Now fans can insert their Yo-Kai Medals into the watch and bring over 200 different fun YoKai characters sounds to life.
SpaceToon TV has acquired the first season of the Yo-Kai Watch animated TV Show early 2016, and airing of the animation started in September 2016. The animation has been dubbed into Arabic to make the story even more relevant to the local taste. In this season, and while searching for bugs in the woods, a boy named Nate ("Zain" as in the Arabic dubbing) comes across a capsule machine next to a sacred tree. When he opens one of the capsules up, it brings forth the Yo-Kai Whisper who gives Nate a special device known as the Yo-Kai Watch. Using this, Nate is able to identify and see various different Yo-kaies that are troubling people and causing mischief. Joined by the cat Yo-kai Jibanyan, Nate and Whisper start befriending all sorts of Yo-kai which Nate can summon to battle against more ill-intentioned Yo-kai that happen to live in his town, causing terrible trouble. Tune in to see how different Yo-kai interrupts Nate's normal life in unexpected and hilarious ways.
Additionally, Yo-Kai Watch Land, a mobile game developed and published by Level-5's western branch Level-5 abby, will also be available in Arabic language end of November 2016. This is the first time a mobile game related to animation and a toy line is being arabized in our region. Now Yo-Kai fans can have more fun by scanning the QR code on the back of the Yo-Kai Medals to see the Yo-Kai come alive on screen and add more Yo-Kaies to their collection, which they can use to play the different minigames and challenges as well as taking pictures of the collected Yo-Kaies.
About ToyPro Dmcc: A marketing and a product development house with an aim to bring rich, localized and exciting marketing content to build top selling brands. ToyPro focus is to bring to the market strong IPs related with TV animations and heavily invest in localized marketing and promotional activities behind such IPs. Yo-Kai Watch is the first IP to be introduced by ToyPro in the Middle East market. To learn more please visit http://www.toypro.net
About SpaceToon Group A leading integrated media group involved in television broadcasting, licensing, merchandising, online and digital gaming. SpaceToon TV, is the 1st Arabic free-to-air station on Nile Sat, launched in March 2000, based in Dubai Media City, and amongst the most recognized children's media brands in Middle East and North Africa. SpaceToon TV transmits to over 118 million viewers in 22 countries throughout the Middle East and North Africa. The channel has a unique theme of program classification, that sets it apart from other cartoon channels, the theme is based on a "ten planets programming concept," creating a perfect blend of education & entertainment to attract a distinct and targeted audience. The 10 planets are Action, Zomorroda (Girls themed), Comedy, Bonbon (Baby planet), Adventure, Abjad (preschool educational planet), History, Science, Moives & Sports.
SpaceToon TV is fully committed to social outreach and social care of children, along with an entertainment adapted to regional cultural values, and encouraging loving family relationships and respect for adults.
Yokai Watch™, Masha The Bear™, and Sesame Street™ are among many other licenses that Arabian Licensing Company (ALC), which is part of Spacetoon Group, act as the licensing agent for consumer merchandise in the Middle East and North Africa. To learn more, please visit http://www.spacetoon.com
Contact
ToyPro
Fawaz Abidin
00971563408661
www.toypro.net

Contact