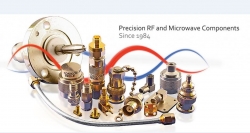 Stuart, FL, January 10, 2017 --(
PR.com
)-- Coaxial Components Corp. (Coaxicom) specialists in precision RF/Microwave components is pleased to announce the appointment of Huntington Beach-based PCX Inc. as the latest distributor to join the Coaxicom team.
As of January 1 2017, PCX Inc. is the largest authorized stocking distributor on the west coast and will represent Coaxicom's complete line of products, both custom and standard throughout the state of California and beyond.
Julian Andrews, Operations Manager at Coaxicom is enthusiastic about the new relationship, "PCX Inc. is a distribution partner with an excellent service reputation, top-notch staff and a broad customer base. I see nothing but success for both companies."
From PCX Inc. Sales Director David Cox, "We will be putting their products and the Coaxicom brand name in front a wider audience while adding our own expertise, and regional knowledge."
Founded in 1994, PCX Inc. credo is trust, accountability, service, with multiple certifications, and tools including ADQ, US-FMS and Star Quality programs to back-up this commitment.
Coaxicom continues to enhance and expand its depth of RF/Coaxial solutions including connectors (all series), cable assemblies, adapters, terminations, and specialty parts. The addition of PCX Inc. will make these products even more accessible to a greater number of companies.
PCX Inc. can be contacted by visiting www.pcxco.com, they are also officially listed on the Distributors and Representatives page at Coaxicom.com.
Coaxicom at a Glance
Coaxicom designs and manufactures an extensive line microwave and RF connectors all available in 50 or 75 Ohm impedance. Proudly serving customers in industries including the automotive, medical, aerospace, defense, telecom, wireless, and alternative energy as well as the US military just to name a few. Coaxicom is committed to providing outstanding value and quality with made in the USA RF Connectors as well as Cable Assemblies, Phase Adjusters, Adapters, Terminations, Pins, Attenuators and more since 1984. Coaxicom also offers world-class manufacturing capabilities necessary to deliver the quality and reliability our customers demand including military specifications and requirements.
Press Contact: Julian Andrews
Website: www.Coaxicom.com
Email: J.Andrews@Coaxicom.com
Phone: USA and Canada 1-866-Coaxicom
International:+1-772-287-5000