Sony Affirm Film Subject, Aimée Marcoux-Spurlock, Makes Metropolitan Room Cabaret Debut Feb. 3rd; "All Saints" Film About Marcoux-Spurlock and Husband Releases in 2017
Aimée Marcoux-Spurlock is an award winning reporter and a classically trained singer and actress who tackles Kurt Weill's extraordinary repertoire in a one night engagement at Metropolitan Room in New York City on February 3 2017. As reporter/producer Aimée Marcoux, her coverage of Ground Zero on September 11, 2001 can be seen in HBO's 2002 Documentary: "In Memoriam-New York City, 9/11/01."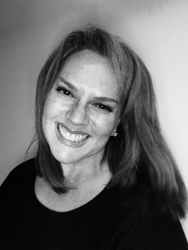 New York, NY, January 13, 2017 --(
PR.com
)-- Classical singer/musical actress, Aimée Marcoux-Spurlock, whose true-life story will come to the big screen in 2017, will make her Metropolitan Room debut on February 3rd with Women of Bilbao, a collection of Kurt Weill's compositions from his 12-tone Weimar period to his more lush Broadway compositions. Marcoux-Spurlock has performed over fifty operatic, musical theater and oratorio roles with leading orchestras and opera companies across the globe. The Women of Bilbao repertoire will include "Surabaya Johnny" from Happy End, "Moon of Alabama," from The Rise and Fall of the City of Mahagonny and "That's Him" from One Touch of Venus. The singer will be joined by Doug Martin as Pianist/ Conductor (Baz Luhrmann's La Bohème on Broadway). Michael Feingold, noted arts critic (Village Voice), is the Creative Consultant. Metropolitan Room is at 34 West 22nd Street in the Flatiron District of Manhattan. Showtime on February 3rd is is 9:30pm. Call: 212.206.0440 for reservations and information. A $24 cover charge and $25 minimum per person apply.
The true story of Aimée Marcoux-Spurlock, and her husband, Michael Spurlock, will be told in the upcoming Sony Affirm pictures release "All Saints," scheduled for 2017 release. The film recounts the story of professional-turned-pastor Michael Spurlock (actor John Corbett), Aimée-Marcoux-Spurlock (actress Cara Buono) and a group of refugees from Southeast Asia, who risk everything to save their tiny church in Tennessee and transform their future.
Marcoux-Spurlock is a musical actress known for her depth of character, interpretation and musical sensitivity. She has appeared in productions with the Florida Grand Opera, New World Symphony Orchestra, Symphony of the Americas, Florentine Opera, Florida Philharmonic Orchestra, The Bulgarian National Orchestra, Opera Frankfurt, Paraguay Symphony Orchestra and The Hungarian State Opera. Her role in Marin Alsop's revival of Gershwin's rare Blue Monday with Colorado Symphony Orchestra was described as "sumptuous" by the Denver Post. In 2013, Marcoux-Spurlock premiered The Yellow Wallpaper a one-woman opera written for her by composer and Duke University Professor, Michael Trinastic.
In a departure from her musical career, Marcoux-Spurlock worked as a reporter and producer for several years with Reuters Television, Showtime, the BBC, NBC and Fox affiliates throughout the United States. She was an original reporter/producer for Entertainment Drive, one of the first online new outlets. Marcoux-Spurlock has been spotted at The Emmys, The Tony Awards and the Academy Awards interviewing such celebrities as Sir Anthony Hopkins, Salma Hayek, Tony Bennett, and Mariah Carey. At the United Nations, she interviewed Kofi Annan, Senator Bill Richardson, President Bill Clinton and HRH Prince Phillip. In addition, Marcoux-Spurlock spent fourteen seasons covering New York's Fashion Week for fashion and entertainment news outlets.
Her spur of the moment coverage of the events of September 11, 2001 was featured in the 2002 HBO documentary, "In Memoriam - New York City, 9/11/01." In addition, Marcoux-Spurlock was lauded by The Royal Television Society as "an invisible giant of TV news" for her coverage at Ground Zero and received and award of recognition.
Press contact: Betsyann Faiella at SAVOYPR. Ph/text: 310.283.2415 or bafaiella@savoypr.com
Contact
Aimée Marcoux-Spurlock
Betsyann Faiella
310-283-2415
http://savoypr.com

Contact
Multimedia
One night performance of "Women of Bilbao" by classically trained singer-actress, Aimee Marcoux-Spurlock.