Players and Pets Super Bowl Blackout Edition Adoptable Animal Fashion Show and Celebrity Party Presented by The Push Media Group, Christians Tailgate, The Sports Girls
Are you looking for a way to make a difference in the life of a rescued animal? Join a cause that we all love, helping animals find furever homes and Blacking out Animal Neglect and Homelessness. This is a special opportunity to obtain individual tickets or VIP packages/group tables to a party for a purpose. Come mingle with a crowd of first class athletes, celebrities and the community along with national and local media on-air talent at Christian's Tailgate Houston Heights, TX.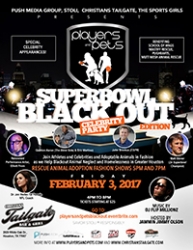 Houston, TX, January 16, 2017 --(
PR.com
)-- Push Media Group in conjunction with Christians Tailgate Houston, The Sports Girls, Tejas Treffen will host all-star caliber athletes, Hall of Famers, entertainers and influencers for a night of partying for a purpose. The event will feature the athletes and personalities walking animals currently up for adoption from three Houston area rescues. Dogs of all sizes and background will be featured and information on the adoption process is available on site from the rescues.
Dubbed Players and Pets Super Bowl Blackout Edition Celebrity party will benefit three local Houston area animal charities: Mutt Mesh Rescue, School of Wags and Pug Hearts. Various pro athletes from NFL players to Olympic Gold will join host Jammin Jimmy Olson to walk the synthetic grass runway with music by Houston DJ's and national recording artist DJ Flip Millionz to walk the runway with some of the most adorable animals up for adoption in Houston. The adoptable animal will be showcasing their individual personalities with a bit of flair from animal boutique clothing by designer Karen Varney of PJNY.
A special DJ set by national recording artist DJ Flip Millionz will occur during each of the shows and before and after with local DJ's from Houston. Come see some of the areas most covered Porsches courtesy of Tejas Treffen of Houston. Also see in between fashion shows a special painting session by world renowned performance artist Elliott From.
Additionally, they will continue their blackout campaign with each animal walking wearing a black ribbon featuring a blue crystal symbolizing our own rescue animal and mascot, Lady Lavache, a four year old pit bull mix. Lady Lavache was for sure facing her own demise tied to a four foot chain and living out of old sofa on the side of of house in South Carolina. Now at 65 pounds, she serves as the motivation behind the blackout campaign, to end animal neglect and homelessness.
Where:
Christians Tailgate Heights Location
2820 White Oak Drive
Houston, TX 77077
When:
Friday February 3, 2017
4pm to 8pm
Adoptable Animal Fashion Show
5pm to 530pm and 730 to 8pm
Who:
Scheduled to Walk Animals
Quinton Aaron- Actor and from the Movie The Blind Side
Eric Martinez- Actor, Breaking Bad and Various Other Hollywood Shows and Movies
Monica Abbott- Pro Softball Player Houston Scrapyard Dogs, 2008 Olympic Gold Medalist and first ever female team sports athlete to sign $1 Million Dollar Contract
Matt Stover- 2 Time Super Bowl Champion
Dr. Jen Welter- First Female NFL Coach
John Brenkus- ESPN Sports Science
Bryant McKinnie- NFL Super Bowl Winner
Chloe Montgomery 2016 Little Miss Black and Natural
Donovan Greer- Former NFL Cornerback and Texas A&M Aggie
Manuel Golden- Celebrity Dog Trainer
Invited Athletes and Celebrities
Santana Moss
Nick Lowery
Marshall Faulk
DJ Irie
Santonio Holmes
Billy Cundiff
Billy Davis
Jarvis Green
Avery Williamson
Demaryius Thomas
Kyle Rudolph
Tickets available starting at $25 for General Admission and $60 VIP. Tables and bottle service available as well
Ticket info https://playersandpetsblackout.eventbrite.com
Sponsorship information available.
For more information or to request media credentials and interviews contact the following for more information.
Media Contacts
Sol Tucker
Executive Director
Push Media Group
301.442.5627
sol.tucker@pushmediagroup.com
Beth Silverberg
The Sports Girls
305.725.3615
beth@thesportsgirls.com
Chris Alan
Christians Tailgate
832.472.3625
edwardalanpickett@gmail.com
Contact
Push Media Group
Sol Tucker
301-442-5627
www.pushmediagroup.com

Contact