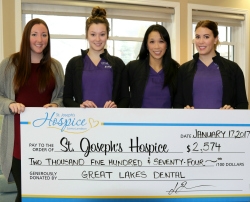 Sarnia, Canada, January 17, 2017 --(
PR.com
)-- For the 7th year,
Great Lakes Dental
sold holiday themed stocking stuffers for $2/package. Each individually wrapped package contained a: Premium Oral-B Toothbrush, sample-sized Toothpaste & Floss. Available brush sizes include: Adult, Teen & Child.
100% of all proceeds are matched $1 for $1 by Dr. Jennifer Thomm (i.e. every unit sold generates a combined donation of $4.00). Great Lakes Dental selected St Joseph's Hospice (SJH) of Sarnia as this year's recipient. There was no cap on the program, it was open to the general public & purchases had to be made in-person (at either Great Lakes Dental or SJH). Great Lakes Dental & SJH sold as many packages as there were buyers between Nov 21st and Dec. 24th. Last year's result was: 340 units @ $4/package resulting in a $1,360 donation to the SJH. This year's goal was set at 400 units @ $4/package resulting in a $1,600 donation.
Results confirmed a record-setting performance with 643 packages sold with proceeds to Sarnia's St Joseph Hospice totalling $2,574.
On the long-term success of this fundraiser, Great Lakes Dental's Dr. Jennifer Thomm said, "I love our stocking-stuffer holiday fundraiser as it benefits our community on two levels. We're able to distribute oral health products throughout our community while simultaneously generating donations to support St. Joseph's Hospice."
About Great Lakes Dental:
Dr. Jennifer Thomm of Great Lakes Dental has been proudly practicing family and cosmetic dentistry in Sarnia since 2003. Dr. Thomm and her team of dental professionals at Great Lakes Dental are committed to providing excellent dental care in a comfortable and relaxed setting. Dr. Thomm and her team provide comprehensive dental services while considering the unique needs and budget of each individual patient. Great Lakes Dental also offers the latest cosmetic treatments that can make a noticeable difference in the appearance of your smile, in a lot less time than you'd think. Through the use of digital photography, intra-oral imaging and CAD/CAM technology, Dr. Thomm can analyze your smile and offer fast and easy cosmetic procedures to help you achieve the smile you've always wanted. To learn more, call our office or visit our website.