Local Businessman to Appear on Season Two of CNBC's "Blue Collar Millionaires"
Middletown Native Stephen L. Hightower and His Business Hightowers Petroleum Co. to be Featured on January 25th at 10PM ET/PT of CNBC's Hit Show.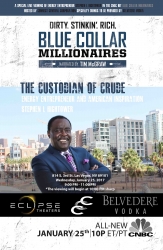 Cincinnati, OH, January 22, 2017 --(
PR.com
)-- Narrated by music legend Tim McGraw, the series celebrates ordinary people overcoming difficulties to transform their dirty Jobs into "Filthy Riches."
On January 25th at 10PM ET/PT the series will feature Middletown businessman and American inspiration Stephen L. Hightower. Stephen is President and CEO of Hightowers Petroleum Co. (HPC), an energy solutions enterprise that today is recognized throughout North America for its customer service, integrity, creative fuel distribution model and expert handling of complex upstream and downstream issues. HPC continues to out perform the industry with technology, ISO quality standard, and a national distribution supply chain that satisfies blue chip "Fortune 100" customers throughout the USA.
Stephen serves on two boards appointed by President Obama, The National Petroleum Council, through the Department of Energy, and the National Parks Foundation Board, through the Department of interior, in addition to State of Ohio Governor appointment, and board member and membership chair for the Society of Independent Gasoline Marketers Association (SIGMA). He also serves to a host of boards and commissions and organizations throughout the country, for a full listing please reference www.StephenHightower.com.
The new season of CNBC's "Blue Collar Millionaires" has an emphasis, and will celebrates America's most inspiring self-made businessmen and women; the working-class who've managed to build fortunes with nothing but mud, sweat, and tears. From gator trappers to chimney sweeps to junkyard kings, these folks have overcome incredible obstacles on the way to mastering their trades. But today, they're all blue-collar millionaires – and they're ready to share what they've learned.
Season 2 of CNBC's "Blue Collar Millionaires" is produced by SallyAnn Salsano & 495 Productions, and each half-hour episode will profile three hard-working entrepreneurs who've gotten rich by getting their hands dirty and overcoming overwhelming obstacles. CNBC's "Blue Collar Millionaires" airs every Wednesday night at 10PM ET/PT on CNBC.
Stephen L Hightower will be hosting a viewing party January 25th at Buffalo Wild Wings, located at 3429 Towne Blvd, Middletown, OH. The viewing party will run from 9:00PM – 10:30PM EST. Local press and media are encouraged to RSVP, as they will be granted full access to Stephen to discuss his experience while filming the hit show by CNBC.
Simultaneously, Stephen's pr and marketing representation Connect Central Corporation will be hosting a viewing party sponsored by Belvedere Vodka at the exciting and new Eclipse Theaters in downtown Las Vegas, NV. Guests are encouraged to arrive at 9:00PM for cocktails and to secure seating.
Contact
Connect Central Corporation
Kayo Anderson
1-702-816-2700

Contact