Season Two of CNBC's "Blue Collar Millionaires" Continues January 25th with Ohio Businessman
Energy Entrepreneur and American Inspiration Stephen L. Hightower to be Featured in a Half Hour Expose; His Struggle and His American Dream.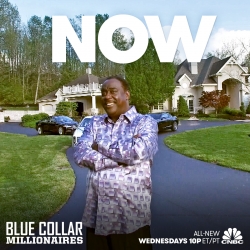 Los Angeles, CA, January 21, 2017 --(
PR.com
)-- Narrated by music legend Tim McGraw, the series celebrates ordinary people overcoming difficulties to transform their dirty Jobs into "Filthy Riches."
From CNBC, "The new season will celebrates America's most inspiring self-made successes: the working-class men and women who've managed to build fortunes with nothing but mud, sweat, and tears. From gator trappers to chimney sweeps to junkyard kings, these folks have overcome incredible obstacles on the way to mastering their trades. But today, they're all blue-collar millionaires – and they're ready to share what they've learned."
Season 2 of CNBC's "Blue Collar Millionaires" premiered on January 4th to strong viewer support. Airing Wednesday evenings at 10PM ET/PT, the show continues January 25th with Ohio businessman and energy specialist Stephen L. Hightower. From humble beginnings, Stephen transformed a cornerstone "family owned" Janitorial Business into one of the world's premiere energy solutions enterprises Hightowers Petroleum Co and HP Energy.
https://vimeo.com/200501371
From SallyAnn Salsano & 495 Productions, each episode of "Blue Collar Millionaires" profiles three hard-working entrepreneurs who've gotten rich by getting their hands dirty. These big personalities have made millions rolling up their sleeves... but at the end of the workday, they drive home to their palatial mansion and park their pick-up next to their collection of high-end sports cars. No doubt about it – these are not your typical millionaires. Learn how guts, grit, and a can-do mindset made them rich beyond their wildest dreams... and find out how they spend their hard-earned millions when they're off the clock and having fun.
Contact
Connect Central Corporation
Kayo Anderson
1-702-816-2700
www.connect-central.com

Contact