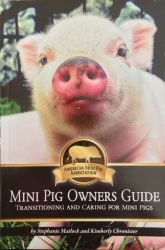 Aurora, MO, February 26, 2017 --(
PR.com
)-- The American Mini Pig Association, (AMPA) has published an educational series to further educate the public on the care, behavior, and training of mini pigs. The number one reason these pet pigs are abandoned is lack of education on the demands of owning one of these adorable, highly intelligent animals.
The AMPA, a mini pig association and registry for owners, breeders (Title) rescues, and veterinarians launched in 2015 with an all encompassing educational website covering mini pigs. The founders saw a need for hands on tools to educate the public prior to adopting a pig, to answer all questions related to care, health, behaviors, and training. The series includes The Mini Pig Owners Guide, The Mini Pig Training Handbook, and The AMPA Coloring and Activity Books. The coloring books were written to get the truth about these adorable pets in the hands of children, the future mini pig owners, advocates, breeders, and rescuers.
"Mini pigs are a non-traditional pet and they are gaining popularity rapidly. We really needed something that our registered breeders could offer their clients to help set them up for successful, forever relationships with their pigs." - Kimberly Chronister, AMPA VP, co-author. The association is the first of its kind to set a standard for mini pig breeders which encourages ongoing support, truth about adult size expectations, spay/neuter, responsible breeding practices, exceptional care of the mini pigs, and the promise to always take their pigs back when needed.
"One of the goals of the association is to reduce the number of displaced pigs. We do that with knowledge. We provide educational tools for the public, mini pig owners, breeders, and children who are our future mini pig advocates. We are thrilled to add two book editions to the series very soon. One specifically targeted to an audience that is considering adding a mini pig to their family. With this resource, we hope we can help eliminate some of the problems associated with adopting from an unethical, irresponsible source by educating the readers on what to consider before they make this life changing decision." - Stephanie Matlock, AMPA Pres, co-author.
You can find the Mini Pig Owners Guide, The Mini Pig Training Manual, The AMPA Coloring Book Series on the American Mini Pig Store, Amazon, Kindle, Barnes & Noble online.
For more information about the American Mini Pig Association or assistance finding an AMPA Registered Breeder, or mini pig veterinarian near you visit www.americanminipigassociation.com or email info@americanminipigassociation.com.