RoboKind Announces JettLingo, Part of Its New Robots4STEM Initiative
JettLingo gives K-12 students an easy and exciting way to learn to code through visual programming and robotics.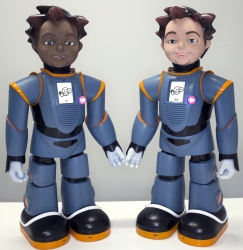 Dallas, TX, March 09, 2017 --(
PR.com
)-- RoboKind today announced the release of JettLingo, an innovative program that gives K-12 students the opportunity to learn coding skills through a unique combination of next-generation visual programming, avatars, and humanoid robots. JettLingo promotes STEM capabilities by engaging learners in real-world programming projects. The JettLingo visual programming environment allows students to manipulate their own personalized avatar - an emulator that looks and acts just like Jett, the humanoid robot. Since Jett has a full range of motion and facial expressions, students can program him to move, speak and respond to input.
A recent report from
Burning Glass
found that there were "7 million job openings in 2015 in occupations that required coding skills." They also found that programming jobs are growing "50% faster than the market overall." ("Beyond Point and Click: The Expanding Demand for Coding Skills," Burning Glass Technologies, June 2016.) The article also found that coding skills provide an avenue to high-income jobs. Robots4STEM is a very quick and effective way to help schools meet the ever-increasing demand for job applicants with programming skills.
"The beauty of the JettLingo platform is its ability to give each student the access and opportunity to learn these powerful programming skills. Learning to code is a key element in the STEM family of disciplines," explained Dr. Greg Firn, Chief Operating Officer at RoboKind. "Unfortunately, too many students do not have access to programming classes in their schools, either because there aren't enough trained teachers or the classes are only offered to a select few. With JettLingo, schools do not have to wait to find teachers with computer science skills. The JettLingo curriculum contains structured, self-paced lessons that are flexible and ready-to-use. This means that any student - regardless of gender, ethnicity, or background - can access the full continuum of learning available through JettLingo."
The JettLingo curriculum is appropriate for any grade level and can be implemented within the normal daily cadence of instruction. Since teachers do not need prior training or experience in computer science, JettLingo can be used in any of the following instructional models:
· Rotation/station
· Stand-alone course
· Before or after school
· Summer school
· Enrichment
· Specials
· Lab
· Maker Movement
And since the JettLingo system is web-based, it can run on any device or platform and can be accessed anywhere and anytime. This means students can use the program in any place, any space and at any pace.
"We are excited to be able to announce this incredible STEM product to the public," said Fred Margolin, CEO and Founder of RoboKind. "We have been extremely pleased with the impact our Robots4Autism program has had on the lives of learners with autism. Now, with JettLingo, students of any age and ability will have access to an incredibly effective way to learn to code. And the best part is that they get to interact with a humanoid robot! The JettLingo program is the most cost-efficient way to bring next-generation visual programming instruction to students in all grade levels, starting as young as 3rd grade."
More information about Robots4STEM and JettLingo can be found at
http://robots4stem.com/
, including a short video of Dr. Firn introducing JettLingo.
About RoboKind
RoboKind, the world leader in social robotics, has designed and created Robots4Autism, the first program of its kind to combine the power and engagement of advanced robotics with a comprehensive curriculum in order to effectively teach social and emotional behavior and communication skills to students with autism. The Robots4Autism curriculum utilizes the principles of ABA and 8 evidence-based practices with automated progress reporting to support the understanding and development of appropriate social skills. The curriculum is delivered via Milo, a humanoid robot who leverages the preference students with autism have for technology, engaging those students for greater learning outcomes and structured generalization of skills. Research confirms that, with Milo, learners with ASD maintain an 87% engagement rate versus only 3% with a therapist or facilitator. Visit
http://www.robots4autism.com
to learn more.
Contact
RoboKind
Mark Child
801-361-7072
www.robokind.com

Contact
Multimedia
This PDF provides an overview of the JettLingo program, what it contains, and how it teaches students how to code through next-generation visual programming and robotics.