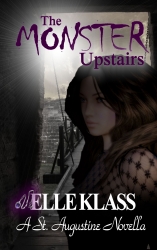 Orange Park, FL, March 10, 2017 --(
PR.com
)-- Book Synopsis: A mysterious, blinding white light, followed by a vision, haunts Mandy until something unthinkable happens. She comes home from school to find her mother badly injured. On instinct, through her tears, forces from within surge through her fingertips into her mother, giving her a second wind. She urges Mandy to take a note and leave, but she can't -- not yet.
Her hot, dark-haired, muscle-bound neighbor, Joel, finds her and drags her crying towards the door. What awaits them on the other side sends them back into the house, where she learns Joel isn't who she thought. Her entire life gets turned upside down as her destiny sends her and Joel deep into the world of Bloodseekers and other supernatural creatures.
"Each supernatural entity has its own fascinating agenda as the forces of good and evil battle for dominance. The author brings refreshing new twists to classic supernatural beings you only thought you knew and understood. Their respective cultures and relationships between them are nicely developed, bringing depth and credibility to their intriguing world through well-developed and engaging characters."
- Marcha Fox Author of the Star Trails Tetralogy
About the Author
Elle Klass is the author of mystery, suspense, and contemporary fiction. Her works include As Snow Falls, Eye of the Storm Eilida's Tragedy, and the Baby Girl series. Her work Eye of the Storm Eilida's Tragedy is a Reader's Favorite Fiction-Paranormal Finalist in the 2015 Reader's Favorite Awards. Baby Girl Box Set received Official Honors in Young Adult through New Apple Indie Ebook Awards. She is a night-owl where her imagination feeds off shadows, and creaks in the attic. Visit her website at https://elleklass.weebly.com.
Contact Information
The Monster Upstairs, The Bloodseekers Book 2 is available in paperback and ebook and can be purchased at Amazon and other online retailers. For more information visit http://elleklass.weebly.com. Or email booksbyelle10@gmail.com
ISBN - 978-0-9982709-3-7 6X9 194 pages
Ebook ISBN - 978-0-9982709-2-0
ASIN - B01ND0N6MU