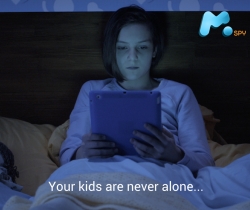 Edinburgh, United Kingdom, April 10, 2017 --(
PR.com
)-- The internet has unfathomable scale, and the sheer mass of content available, together with the near-total lack of regulation, means this digital frontier is dangerous for vulnerable people. Children risk being exposed to all manner of inappropriate, damaging and dangerous content every day. mSpy is an app that helps parents protect their children online, and has released a new and shocking social advert to demonstrate the dangers they face.
mSpy has released a new social commercial about online dangers and their impact on children (
https://www.youtube.com/watch?v=R9vrZJat48k
). The video has collected over 170 000 views in just the first 5 days since launch. The video will next be featured at the International Festival of Creativity "Cannes Lions" 17-24 June 2017, thanks to its powerful message and affecting portrayal.
It is the first social commercial of its kind to address the dangers children face online. The video uses extreme content to create a vivid picture of what children are exposed to on a daily basis while being online.
mSpy is a #1 parental control application with more than one million users worldwide, helping parents to know what children are doing online, prevent them from seeing certain things like adult content, and protect them from the dangers of cyberbullying, grooming, and other nefarious online practices.
Rachel Burnham, mSpy Chief Marketing Officer explained, "Our new viral commercial is challenging, but speaks the truth about the online environment many parents may not be aware of. Only 1 in 10 children would tell a parent about cyberbullying, a growing cause for children suicide attempts. Nearly a quarter of early teens are involved in unhealthy texting. 1 in 5 face unwanted solicitation by strangers. The internet can present a danger even when a child is safely tucked away in bed, and that is what we show parents with this commercial. We hope it inspires more people to take the steps necessary to protect their children when they're going online."
About mSpy: mSpy is a parental control application. It is currently a leader in monitoring solutions with over a million customers around the world. Their primary goal is to satisfy client's needs for online security and safety. Their experienced team of developers is always working to improve the service they provide, making it easy, intuitive and accessible on all devices.
Video URL: https://www.youtube.com/watch?v=R9vrZJat48k
For more information please visit:
https://www.mspy.com/
Contact Info:
Name: Rachel Burnham
Email: media@mspy.com
Organization: mSpy.com
Phone: +442081338717