Master P Declares That "Poetry Is Not Just Rhyming," Much to Author Kimberly D. Worthy's Delight
The Children Book Volumes of "Poetry Is Not Just Rhyming" Authored by Kimberly D. Worthy, Received a Much Coveted Endorsement by Hip Hop Business Mogul Master P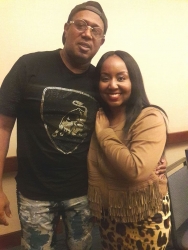 Atlanta, GA, April 11, 2017 --(
PR.com
)-- Atlanta Author Kimberly D. Worthy left Las Vegas, Nevada with not only luck on her side, but with an endorsement from Master P. The New Orleans Legend gave his stamp of approval for the "Poetry Is Not Just Rhyming" Children Book Volumes that she authored.
"Master P" also known as Percy Miller, met privately with Author Kimberly D. Worthy in a swanky hotel conference room located on the Las Vegas Strip. The meeting was brief but impactful. Full of life lessons, testimonials, business advice, and most importantly with Master P becoming familiar with the Children Book Volumes of "Poetry Is Not Just Rhyming."
The meeting concluded with the Colonel of the Tank himself Master P, singing the praises of the books messages which educates and empowers adolescents between the ages of 10-14 to use the Power of Words to positively express themselves. Being a successful Musician, Master P stated how well he understood the correlation between lyric writing in music and stanza writing in poetry. Miller, a child advocate himself said that he is all for doing whatever is necessary to keep our youth on the right track.
"Poetry Is Not Just Rhyming Volume 1," is an innovative learning tool and coloring book for kids. From Haiku's, Cinquains, to Metaphoric Poems, kids will learn that poetry does not have to rhyme and that a poem can be about anything that they choose. "Poetry Is Not Just Rhyming Volume 2" offers young readers practical examples of how to use some of the poetry concepts learned in the first volume of "Poetry Is Not Just Rhyming." Loosely based on the children's television show "Poetry and Life," "Poetry Is Not Just Rhyming, Volume 2," encourages children to express themselves and build their self-esteem using poetry.
"To have someone as impactful and business savvy as Master P to approve of the work that you are doing is beyond amazing. I have been a fan for many years and knowing how busy of a person he is, I was very grateful to sit with him and have his undivided attention. During this time, Master P not only learned about the Poetry Is Not Just Rhyming Children Book Volumes, but also about my Children's Television Pilot called Poetry and Life. This business meeting definitely piqued Master P's interest as he requested that I provide him with further information on the current projects that I am working on for possible collaborations," Kimberly stated.
Further proving that there is No Limit to success when each one teach one, Master P passed along his newly gained knowledge of "Poetry Is Not Just Rhyming" to his fans by recording a video message with Author Kimberly D. Worthy that encourages them to purchase their copies of the books. Follow this link to the video: https://youtu.be/sEdpTY9LTo0
"Poetry Is Not Just Rhyming," Children Book Volumes can be purchased online at the following link: https://www.amazon.com/Kimberly-D.-Worthy/e/B00MRS3ZQE
About Kimberly D. Worthy
Kimberly D. Worthy is an Author, Actress, Television Producer and Media Personality. Kimberly is well known as a stand out star from Season 1 of the Food Network's Hit Reality Show "Worst Bakers In America," where her fear of cracking eggs left viewers in hysterics. Kimberly is also a frequent Commentator on "TMZ LIVE" where she gives witty commentary on the latest in Celebrity News and Gossip. Kimberly resides in Atlanta, Ga., and she also develops and teaches Creative Writing and Poetry Workshops Nationwide. To learn more about Kimberly D. Worthy, visit www.kimberlydworthy.com or poetryandlife.com.
About Denise S'llure Publishing Company, LLC
Denise S'llure Publishing Company, LLC is an established Company based out of Atlanta, Ga. The company originated solely as a Publishing Company for Written Works, but through the years has evolved into other areas, including Marketing and Television Production.
Contact
Denise S'llure Publishing & Production Company, LLC
Bren Jack
(404) 536-7284

Contact
Multimedia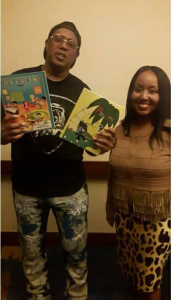 Master P holding his copies of the "Poetry Is Not Just Rhyming" Children Book Volumes