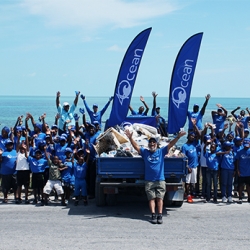 Boca Raton, FL, April 20, 2017 --(
PR.com
)-- 4Ocean, an Ocean Conservation Company whose mission is to create a sustainable future for the ocean, just announced their plans for Earth Day – and you're not going to want to miss this. Founded in January 2017, 4Ocean co-founder Andrew Cooper proudly stated, "After already successfully removing over 46,000 pounds of marine debris in just 3 months of launching, I am positive that this Earth Day will be our biggest success to date." On April 22, 2017, 4Ocean will be hosting multiple international cleanups to remove as much trash as possible from the oceans and coastlines. Their efforts will be seen in Boca Raton, Florida, with corresponding cleanups in the Philippines, and Montserrat where they have partnered with the
Coral Cay Conservation
.
Since 1970, Earth Day has been celebrated worldwide as a day to bring awareness to growing environmental issues and demonstrate support for environmental protection. 4Ocean knows the importance of preserving the ocean's beauty and wants to remind everyone that we should all be helping to make a difference not just on Earth Day, but every day. Exclusively for Earth Day, 4Ocean will be releasing their
4Ocean Earth Day bracelets
which will feature a green cord, instead of their signature blue cord. The 4Ocean bracelet is a reminder to the person wearing the bracelet that because of their support, the ocean is becoming a cleaner place for us and marine life to live.
4Ocean understands the significance of utilizing existing glass and plastic that has already been produced. They have a vision to eliminate the production of any materials that may one day end up as trash in the ocean – which is why their bracelets are made from 100% recycled materials. The beads of the bracelet are created from recycled glass bottles while the cord is made from post-consumer recycled water bottles. For every single bracelet purchased, the 4Ocean team pledges to remove one pound of trash from the ocean. Through the sales of their bracelets, 4Ocean is able to obtain the tools, equipment, and vehicles needed to fund both onshore and offshore cleanups that would otherwise not be possible.
As of April 2017, 4Ocean has been able to actively carry out their mission and has removed over 46,000 pounds of trash thanks to the support they have received.
The 4Ocean team encourages everyone to help do their part to save our oceans. Co-founder Andrew Cooper says, "The age we live in, it is easy to wait for a machine to come and clean the ocean of 1 million pounds of trash at a time, however it is more pragmatic to convince 1 million people to clean only 1 pound of trash at a time."
To learn more about their efforts and how you can make a difference please visit 4Ocean.com this Earth Day or watch the
Ocean Cleanup Video
.