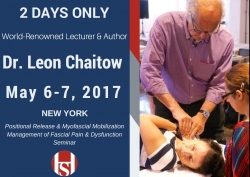 New York, NY, April 24, 2017 --(
PR.com
)-- Seminar: Positional Release & Myofascial Mobilization Management of Fascial Pain and Dysfunction with Dr. Leon Chaitow
An Evidence-based Experiential Workshop
May 6-7, 2017
The Paper Factory Hotel
37-06 36th Street
Long Island City, NY
Hands-On Seminars is welcoming Europe based Dr. Leon Chaitow, ND, DO one of the world's prominent Manual Therapy teachers & author of 70+ books – visiting NYC from Europe to teach a 2-day seminar at the beautiful Paper Factory Hotel in long Island City NY – across the bridge from midtown Manhattan. He will be signing his books, so all who wish to have those signed are welcome to bring them.
Therapists will learn in person from Dr. Chaitow. His teachings apply to all health care professionals and practitioners of manual therapy such as medical doctors, osteopaths, physical therapists & PTAs, occupational therapists & OTAs, chiropractors, massage therapists, RNs even athletic trainers and personal trainers. Dr. Chaitow will demonstrate his relevant techniques and participants will have the chance to practice on each other under his supervision.
Below is the direct registration link with more information about the course:
http://www.handsonseminars.com/hos-courses/dr-leon-chaitow-live-nyc-2-days-may-6-7-2017/
Participants could take advantage of a special discount code SEMINAR35 which will take off 35% off registration fee, which actually brings it down to just $321.75 per participant for the two-day course. NY Physical Therapists receive 16 CEUs approved by NY State Dept. of Education Board of Physical therapy.
​Registration is limited and now available online or over the phone at 212-246-4066.