South Dakota Groups to Develop Testing Lab for International Humanitarian Organization
SD Mines and RPM & Associates Commit to Assist with Free Wheelchair Mission Test Lab.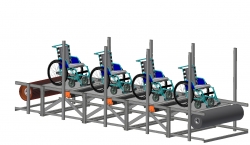 Irvine, CA, May 02, 2017 --(
PR.com
)-- Free Wheelchair Mission (FWM), a world leader in mobility solutions for people with disabilities in developing countries, announced a partnership with The South Dakota School of Mines & Technology (SD Mines) and Rapid City, South Dakota-based RPM and Associates, Inc. (RPM) to construct a whole wheelchair test lab at Free Wheelchair Mission's world headquarters in Irvine, California.
The test lab is designed to propel wheelchairs over repeated obstacles while continuously monitoring stress, strain, accelerations, and temperature rise due to friction. The obstacles will be designed to simulate the same types of obstacles that wheelchair users encounter in developing world conditions.
Dr. Daniel Dolan, Director of the Center of Excellence for Advanced Manufacturing and Production at the South Dakota School of Mines & Technology said, "The bright minds here at the South Dakota School of Mines & Technology are enthusiastic about providing engineering and manufacturing support for this program, and assisting with the creation of the new testing system for FWM's wheelchairs. We are honored to be involved."
Dr. Don Schoendorfer, Founder and President of FWM, explained the importance of the test lab to his organization, saying, "Our new Free Wheelchair Mission test lab will compress a full year of field testing into a few hundred hours of lab testing. We are unaware of any other wheelchair provider having this ability."
As a member of the Board of Directors of the International Society of Wheelchair Providers (ISWP), Schoendorfer will make the Free Wheelchair Mission test lab services available to other members of ISWP who are producing wheelchairs for the developing world.
Free Wheelchair Mission has distributed close to one million wheelchairs at no cost to people with disabilities in developing nations since 2001. Until now, the organization has evaluated its wheelchair designs by field-testing samples in one of the 93 countries it serves. This process is expensive, takes a year or longer, and the data received is often ambiguous.
The new partnership with SD Mines and RPM is expected to accelerate the product improvement program and provide reproducible data on FWM's wheelchairs. Rob Mudge from RPM said, "Our business is always driven by a strong desire to solve our customers' wear problems and save them money. Applying those principles to the test lab for Free Wheelchair Mission could be one of the most significant projects we've undertaken in more than 30 years of being in business."
Over 100 million people worldwide are in dire need of a wheelchair, yet most do not have the resources to obtain one. The need for wheelchairs is growing due to aging populations, natural disasters, traffic accidents, and political unrest.
The SD mines team and RPM will assemble a prototype in early May, and product testing and refinement will continue throughout the coming summer. Mines students will continue the next phase of the project in the 2017-2018 school year. The long-term goal is to have a fully functional wheelchair testing system delivered to the Free Wheelchair Mission Headquarters in Irvine, Calif. at a future date to be determined.
About Free Wheelchair Mission:
Free Wheelchair Mission (FWM) is a humanitarian, faith-based, nonprofit organization providing wheelchairs at no cost to people with disabilities living in developing nations. In collaboration with a network of like-minded partners, FWM has provided more than 987,000 wheelchairs since 2001 to people with disabilities in 93 countries. FWM provides dignity, independence, and hope through the gift of mobility at a price of only $80. FWM is on a mission to distribute 1 million wheelchairs by Summer 2017. Help them reach the mission by visiting:
freewheelchairmission.org
.
About South Dakota School of Mines & Technology:
Founded in 1885, the South Dakota School of Mines & Technology is a science and engineering research university located in Rapid City, S.D., offering bachelor's, master's and doctoral degrees. The university enrolls 2,859 students with a student-to-faculty ratio of 15:1. The SD School of Mines placement rate for graduates is 98 percent, with an average starting salary of $63,500. Find us online at
www.sdsmt.edu
.
About RPM & Associates, Inc.:
RPM & Associates, Inc. is a manufacturing firm founded in 1982 by Rob Mudge, Deb Mudge and Rob's parents, Jim and Phyllis Mudge. RPM & Associates, Inc. is a South Dakota corporation located in Rapid City, serving coal-fired power plants, mining operations, cement plants, chemical processing plants, Department of Defense, and aerospace. RPM & Associates is focused on solving wear problems using innovative ideas, automatic welding systems, creative machining, and proper material selection. Learn more at
www.RPMandAssociates.com
.
Contact
Free Wheelchair Mission
Jennifer Walker
(949) 273-8470 x226
www.freewheelchairmission.org
Contact: Charles Michael Ray
Title: SD Mines University Relations
Phone: 605-394-6082
Email: charles.ray@sdsmt.edu

Contact