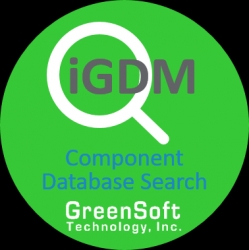 Pasadena, CA, April 24, 2017 --(
PR.com
)-- GreenSoft Technology, Inc., a leading provider of environmental compliance data services and software, has launched a new GreenData Manager (GDM) software add-on for searching the compliance status of parts/components: iGDM. Customers can access iGDM online from anywhere with an Internet connection through GDM-Browser Edition or Hosted GDM.
iGDM and all GDM software editions are for manufacturers that are obligated to comply with RoHS, REACH and other environmental product regulations.
iGDM allows engineering and product design staff to qualify parts for compliance in real-time during the design process by searching for RoHS and REACH SVHC compliance status within GreenSoft's iGDM multi-million parts database.
The iGDM parts database is populated with high-quality up-to-date data on millions of parts gathered and validated by GreenSoft's data collection team. Customers are able to search for matches using a single part number or by searching multiple part numbers at once.
iGDM will return search results presenting the number of parts found within the customer's parts database and the number of parts not found in the customer's database. The customer can then view the compliance status of unmatched parts using data pulled from GreenSoft's iGDM component database.
After reviewing the searched parts from the iGDM database with compliance status, the customer can add those parts to their data collection and processing pool. GreenSoft will then add the chosen parts, with compliance status and compliance documents, into the GDM software for the customer.
About GreenSoft Technology, Inc.
GreenSoft Technology is a leading provider of environmental compliance content management tools and services for the global electronics industry. GreenSoft's Data Services streamline development cycles, cut procurement costs, reduce risk, and aid in environmental compliance reporting. GreenSoft's GreenData Manager software provides an out-of-the-box compliance management solution for manufacturers. GreenSoft is ISO 9001:2015 certified and is headquartered in Pasadena, California.
For more information, visit www.greensofttech.com.
Contact: Ammie Grauten, Marketing Manager
agrauten@greensofttech.com
155 S. El Molino Ave. Ste. 100
Pasadena, CA 91101 USA
Ph: +1-323-254-5961 ext. 812