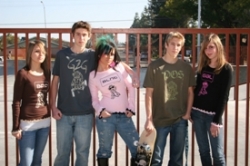 Clovis, CA, February 08, 2008 --(
PR.com
)-- dekoposh, an emerging new company whose motto is "Love Life, Dream Big, Live Well," announces the launch of their unique line of text messaging apparel aimed at the growing tween and teen market. This new apparel line is designed to fill a noticeable void in a segment of the population who has popularized text messaging, blogging and possess an insatiable appetite for the latest in technology and gadgetry.
The first release will feature shirts for tweens and teens designed for boys and girls as well as babies and toddlers. The pricing will range from $20.95 for the Baby and Toddler line to $25.95 for the tween and teen line.
The design concept for both lines will incorporate the use of two characters known as deko (boy) and posh (girl) with a specific text message converged with a unique overall design. These two characters represent your typical teens and together they illustrate how teens utilize technology as part of their daily lives. For example: MySpace, Blogs, Text Messaging, Chat Rooms, YouTube and iPods, etc.
The use of the blog page will provide customers of all ages the opportunity to learn more about deko and posh's favorite websites, favorite d&p list, interests, hobbies, stocks, books, and so much more and can be located at www.dekoposh.blogspot.com. Moreover, the deko and posh blog is designed to be interactive and let all V.I.T.s (very important tweens and teens) know everything that is going on in their world.
"Embracing technology can be an enjoyable experience and it can certainly help enhance one's personal life," said Dina Thomas-Virrueta, President and Founder of dekoposh (www.dekoposh.com). Furthermore, she adds "dekoposh is committed to bringing quality products to market with an exciting twist."
dekoposh loves MySpace and has found some great friends. For example, deko and posh discovered www.dosomething.org a site for Teens and discovered a campaign called "Teens for Jeans." "Teens for Jeans" is a campaign to empower teens to make a difference in teen homelessness by donating their gently worn jeans to any Aeropostale Store. In turn, Aeropostale will donate the jeans to local youth shelters (it has been documented that one out three homeless people in the United States are teenagers). dekoposh embraced this campaign on a local level and distributed "Teen for Jeans" collection boxes to eight local schools in the Clovis Unified School District.
For additional information, please visit http://
www.dekoposh.com
. The text messaging apparel can be found under the Got Text?? Shirts tab.
###