Gnet LLC is Now Dnet Security
Gnet LLC announces its transformation to Dnet Security.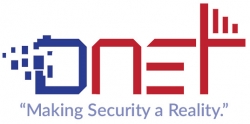 Washington, DC, May 01, 2017 --(
PR.com
)-- Gnet LLC is proud to announce its transformation to Dnet Security. Everything Gnet's clients loved about them will remain the same. As Gnet LLC the focus was on Securing Data, Networks, Electro-mechanics and Telecoms hence the name Dnet.
Dnet Security's, President and CEO commented, "We all know the cyber threats are one of the biggest problems that this and other countries face. I have decided use my background in security to focus all of my efforts on preventing anyone from losing their identity or data."
Cyber threats continue to grow. Forbes Magazine projects that by 2019 cyber threats will cost more than $2.1 trillion globally. The cost is not the only thing growing. The Hackers are also becoming more advanced.
For over five years Gnet now Dnet has been Making Security a Reality for both Government and Commercial clients. Through the People, Process and Technology (PPT) method, Dnet has provided clients with skilled experts who use the latest technology to ensure that there are no vulnerabilities to the client's technological environment.
Dnet's staff has expertise and accreditations in a wide variety of security areas. Personnel are also available at all levels of clearances. Through its partnerships with MicroSoft, Tech Data, Checkpoint, Vormetric and Splunk, Dnet is also able to resell products at a modest price.
Vice President of Marketing and Business Development, Roxanne Navarra stated, "Many may wonder why the name change after five great years of providing goods and services? The answer is simple. It just made sense, since providing secure solutions has always been at the backbone of our company."
About Dnet
Dnet is a Small, certified Historically Underutilized Business Zone (HUBZone) and Minority Business Enterprise (MBE) headquartered in Washington, DC and is a full-service Cybersecurity Consulting Firm. Dnet's client list includes, but is not limited to: Census Bureau, U.S. Courts, Bureau of Labor Statistics, Department of Health and Human Services, Federal Deposit Agency, Accenture and Olympus Corp. Additional information about Dnet Security can be found at
http://dnetsecurity.com/
.
Contact
Dnet
Roxanne Navarra
1-888-638-7898
www.dnetsecurity.com

Contact