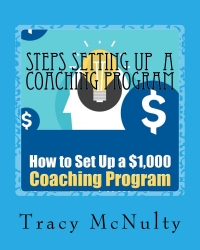 Los Angeles, CA, April 29, 2017 --(
PR.com
)-- Today, Tracy McNulty announces immediate availability of her Book "Steps setting up a Coaching Program," which was released online March 18, 2017. After the successful "Epic Launch Formula" book, this newest educating and expository book, a product of her years of experience as an Actress, Producer, and Author is for those looking to start their own coaching Program.
According to the Author, Tracy McNulty, "The Book is for marketers ready to start their own coaching program. However, anyone could take the knowledge contained within to build their own $100,000 business from scratch. Bottom Line: Whether you're ready to take on coaching clients or you're just getting started, this information is for you."
The book is a handful of knowledge that will benefit advanced marketers who have prior knowledge of coaching but wants to step up their experience. The book provides a rare opportunity for marketers new in the coaching business to expand their coast by setting up a $1000 gainful venture.
"This is an awesome book. You won't be disappointed," said an Amazon customer. The book is an update driven by customer feedback and is part of Tracy McNulty commitment to deliver quality mentorship to Entrepreneurs and marketers.
The books are available for immediate sales at Online publishers, Amazon, Kindle, Worldwide, Create space etc. It is found on
http://tinyurl.com/tracymcnultysteps or
https://www.createspace.com/7007165.
About the author
Actress Tracy McNulty also known as Stresh is a Los Angeles-based Asian American actress, author and producer. She has been commended by a lot of colleagues, friends and stakeholders in the entertainment industry for her valued contribution. She is privileged and honored to have worked with outstanding directors and actors for thriller, action, suspense, comedy and/or dramatic feature films/student/indie films. She has starred in over 20 comedy roles and dramatic roles.